1969 Chevelle Trivia
[ 1964 ] | [ 1965 ] | [ 1966 ] | [ 1967 ] | [ 1968 ] | [ 1969 ] | [ 1970 ] | [ 1971 ] | [ 1972 ]
Any interesting trivia for 1969 Chevelles? Let me hear from you and be sure to specify 1969 trivia.
»» All 1969 station wagon and El Camino body styles have vented gas caps, all others have non-vented caps.
»» The SS396 series was discontinued and RPO Z15 SS Equipment became an option. The Z15 option was available in the Malibu sport coupe, convertible and pickup series as well as the 300 Deluxe 2-door coupe and 300 Deluxe 2-door sport coupe for 1969 only. Since RPO Z15 was an option just like anything else such as a radio, a vinyl top, etc. there is NOTHING on the trim tag nor in the VIN to indicate the option was ordered although the Oshawa, ON. plant did indicate the engine RPO (such as L34 or L35) on the trim tag indicating it was a RPO Z15 optioned Chevelle.
»» A front bench seat and H.D. floor-shifted 3-speed transmission was standard on SS-optioned Chevelles. Bucket seats were optional on the Malibu sport coupe, Malibu convertible, and the Malibu series sedan pickup (13680) as well.
»» Gauges (RPO U14) were optional in 1969 and could be ordered on both the 300 Deluxe V8 series coupe and sport coupe as well as the Malibu V8 series sport coupe, convertible, or sedan pickup and included oil pressure, water temperature, ammeter, and tachometer. Beginning in 1969 the oil pressure gauge went from a mechanical gauge to an electrical gauge.
»» When a 300 Deluxe coupe or sport coupe was ordered with the RPO Z15 SS Equipment option, the tail lamp housings used were the same as the Malibu series. See 1969 Chevelle SS396.
»» Two additional body colors, Monaco/Hugger Orange and Daytona Yellow were available only on SS396-optioned Chevelles. Monaco/Hugger Orange carried a trim tag code of 72 and Daytona Yellow was coded 76. Any Chevelle with either of these two codes on the trim tag is a true SS396 Chevelle. These colors were available on ANY 1969 Chevelles but would have to be ordered under the Fleet & Special Order system and would NOT have 72 or 76 on the trim tag but rather a DuPont mixing formula (926-99616 for Monaco/Hugger Orange and 926-99568 or Daytona Yellow) would be shown or simply a dash character (-) indicating a special order paint (RPO ZP3). Both special SS396-only colors were still a $42.15 option.
»» The same Monaco/Hugger Orange and Daytona Yellow were also available on 1969 COPO Chevelles; 14 were ordered in Monaco/Hugger Orange and 12 were ordered in Daytona Yellow.
»» Headrests were mandated by federal law with a January 1, 1969 effective date. Any 1969 Chevelle produced before that date had the option of removing the headrests under RPO AR1 if the buyer wished. Only 774 buyers chose this option.
»» To continue with the 300 Deluxe series body style name change instituted in 1968, the 2-door pillar coupe continued to be called a coupe while the hardtop version was designated as a sport coupe. A Chevelle 2-door sedan was history.
»» The 131/132xx series was reduced to only one body style, the Nomad station wagon. There were two versions of the Nomad station wagon, however, one model with a conventional tailgate (13135/13235) and one model with the new dual-action tailgate (13136/13236). The dual-action tailgate would be standard for all other 1969 Chevelle station wagons.
The Infamous "L" on Kansas City trim tags
There is much speculation as to whether the letter "L" on a 1969 Kansas City Fisher Body Number plate indicates an SS-optioned 1969 Chevelle and the lack of this letter "L" indicates a non-SS optioned 1969 Chevelle. While probably 99.9% of true SS-optioned 1969 Chevelles DO HAVE the letter "L" and 99.9% of non-SS optioned Chevelles DO NOT, here are a couple of cars found that appear to break tradition. Is it 100% certain the SS shown without the letter "L" is a true SS or the non-SS optioned Malibu is NOT an SS? No, but I'll let you decide for yourself.
An apparent SS optioned Chevelle without the letter "L." Some indications it's a real SS are the D96 side stripe remnants, the 5,500 redline tachometer, and SS interior trim. None is proof positive, but these are pretty good indications.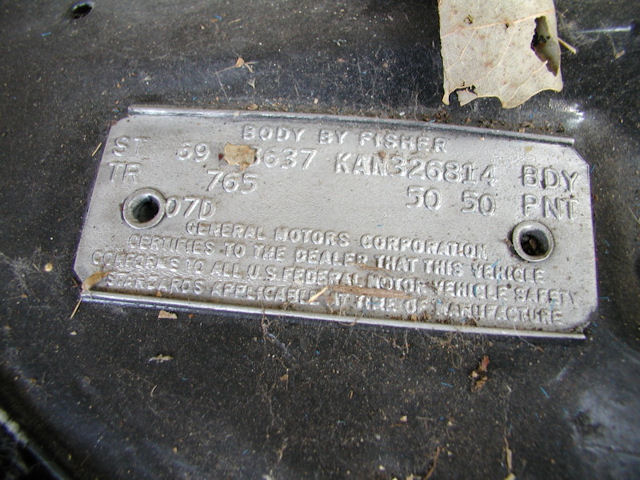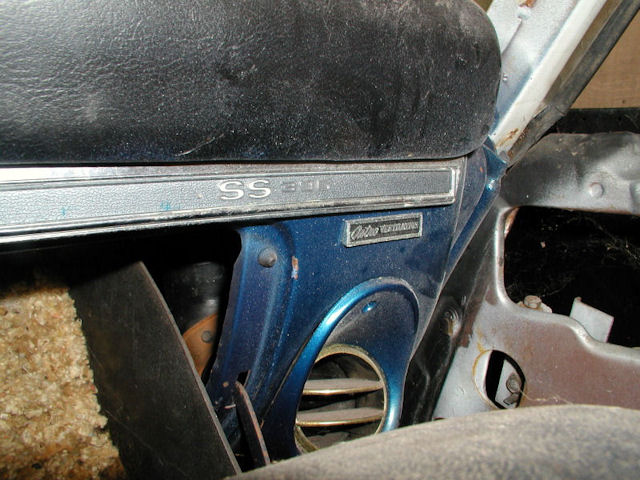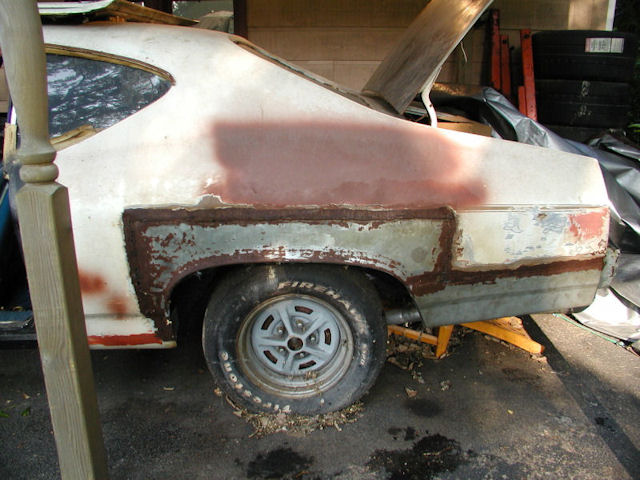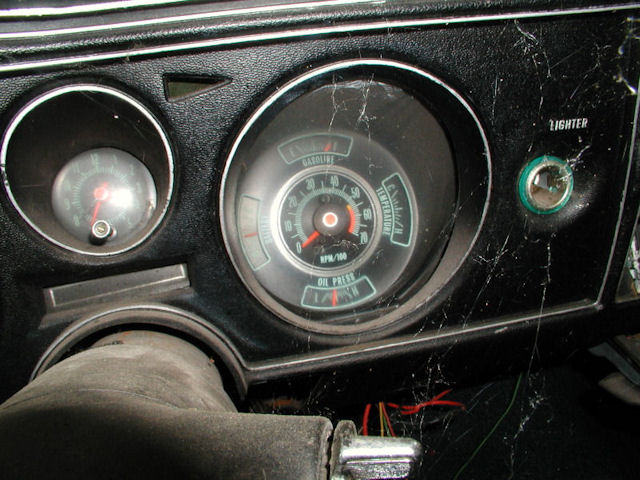 ---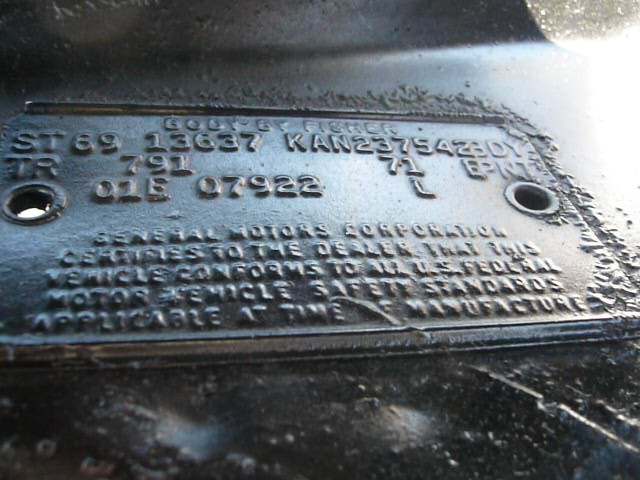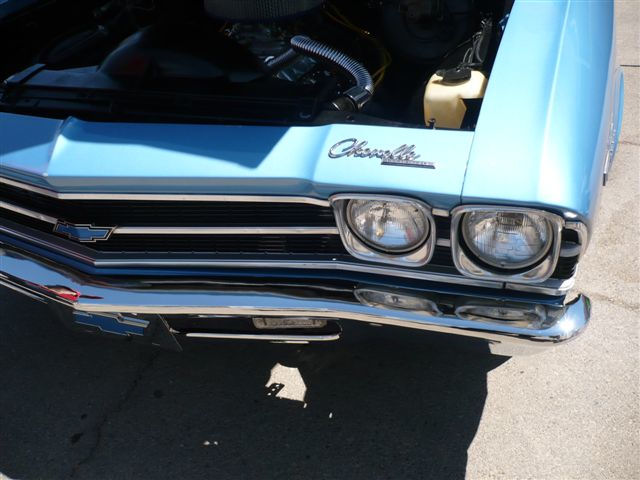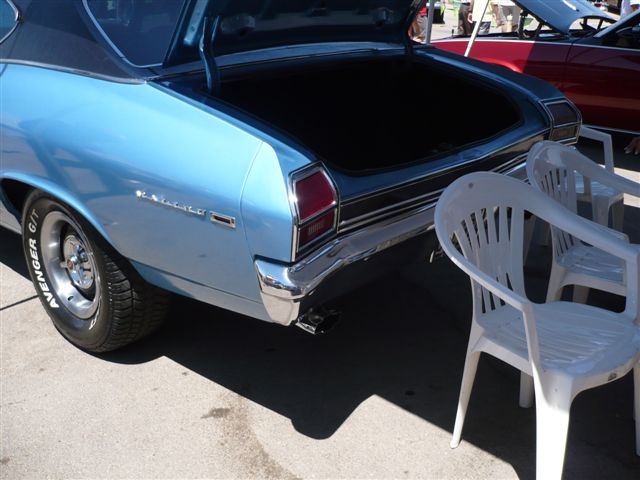 Oshawa-built 1969 Chevelles
Oshawa built 9,612 13637 Malibu sport coupes for sale in Canada. It's known that at least the first 1200+ had sequence numbers beginning with 100001 - the last known 1xxxxxx sequence number 101288 but there could certainly be later ones. Oshawa changed to the 300001 sequence around January of 1969.
Bucket Seat Piping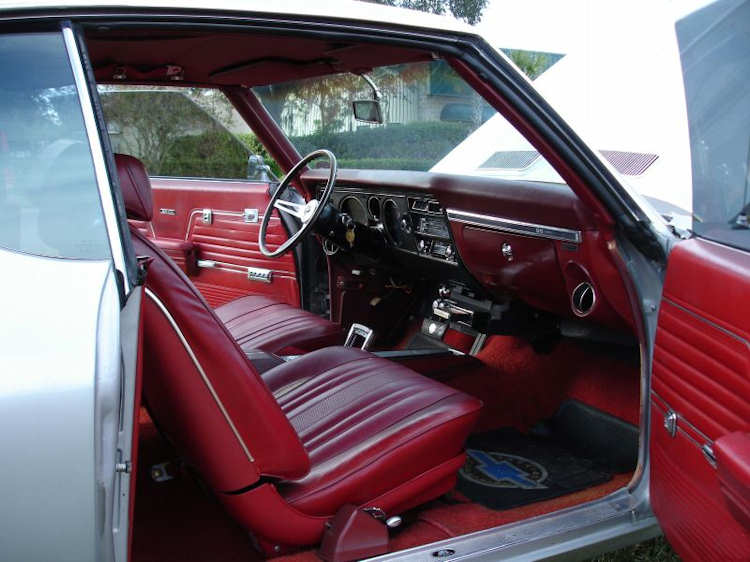 Correct - note piping only on the seat back.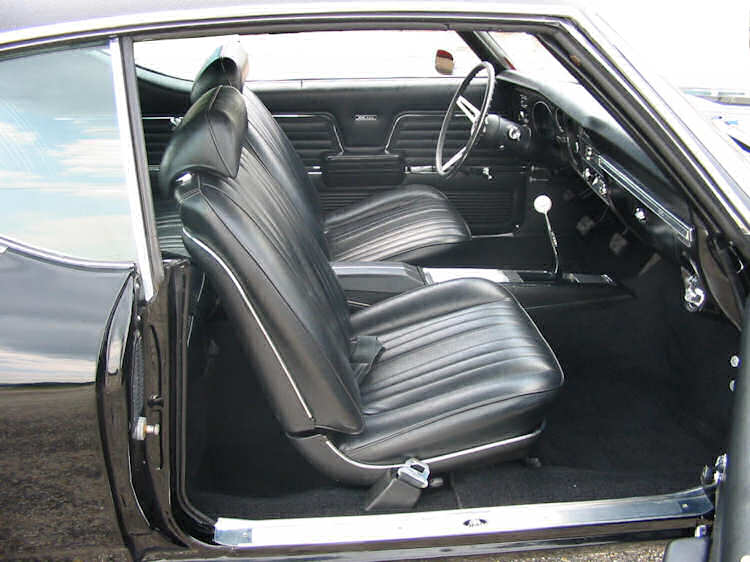 Incorrect - note piping on seat back (correct) and seat bottom (incorrect)