1965 Chevelle Trivia
[ 1964 ] | [ 1965 ] | [ 1966 ] | [ 1967 ] | [ 1968 ] | [ 1969 ] | [ 1970 ] | [ 1971 ] | [ 1972 ]
Any interesting trivia for 1965 Chevelles? Let me hear from you and be sure to specify 1965 trivia.
»» All 1965 station wagon and El Camino body styles have vented gas caps, all others have non-vented caps.
»» U.S-built Chevelle VINs now began with the General Motors division, the division series, body style, and year such as 138375. Canadian Chevelles continued to have the production year as the first digit in the VIN, i.e., 513837. See the 1965 VIN page for more information.
»» The Malibu SS was available in both the sport coupe and convertible body styles and could be ordered with an L6 or V8.
»» The Malibu SS came standard with bucket seats although it's reported the three-speed manual transmissions did not have a console and the Powerglide with a column shift would have the console deleted. If a column-shift was requested the bucket seats were still standard but the bucket seats could be swapped for a bench seat.
»» All Malibu SS Chevelles came with gauges in lieu of warning lamps but tachometer (RPO U16) was optional. When tachometer was ordered the clock moved from the center of the cluster to the top of the dash.
»» The tachometer (RPO U16) could be ordered with any V8 Chevelle regardless of series or body style.
»» A new series was introduced in 1965. The Chevelle 300 became the entry level series followed by the 300 Deluxe, Malibu, and Malibu SS.
»» Four basic series were introduced, the Chevelle 300, 300 Deluxe (new for 1965), Malibu, and Malibu SS. Seven body styles were offered; a 2-door sedan, a 2-door/2 seat station wagon, a 4-door/2-seat station wagon, a 2-door sport coupe, a 2-door convertible, a 4-door sedan, and a 2-door sedan pickup.
»» The 1965 model year would be the last year for a 2-door station wagon.
»» There were 3 bucket seat codes exclusive to the 13580/13680 Custom El Camino, 717 (Light Fawn), 724 (Metallic Medium Turquoise), 726 (Medium Red). There was not an RPO A51 for bucket seats option code in 1964; bucket seats were restricted to the Malibu SS and the Custom El Camino. Also odd that only 724 trim code is shown with any quantity of being sold - 3,234 out of 24,397 in 1965.
»» As in 1964, many station wagon and sedan pickup bodies were built at the Fisher Body plant in Euclid, OH. and shipped to Atlanta and Kansas City for final assembly. Several examples have been found of 1965 Chevelle bodies built for the Baltimore final assembly plant as well.
»» Sometime between late February and June the L79 engine upper alternator brace changed from a single mounting point brace to a wider 2-point brace similar to 1966-1968 small-block upper alternator braces.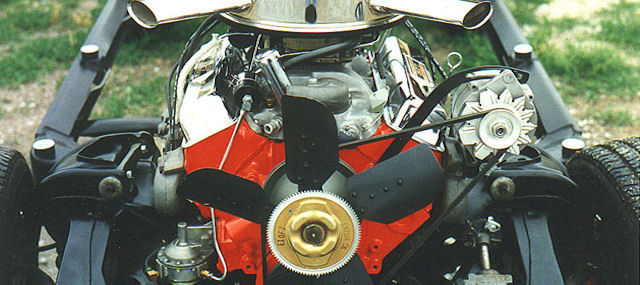 Courtesy Rich Cummings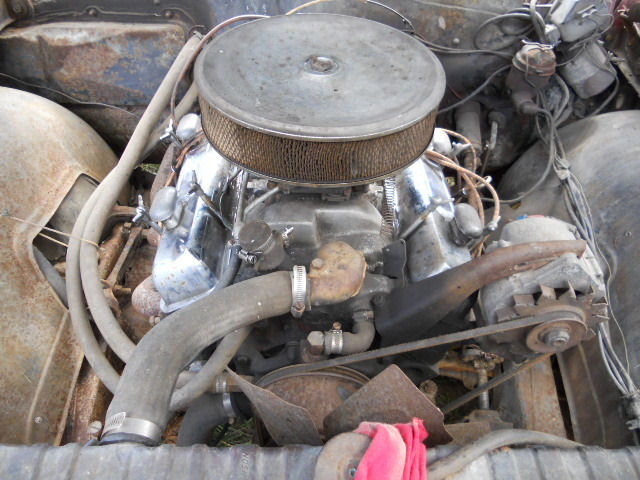 Courtesy Ed Sharretts
Note this later brace has one mounting point on one of the intake manifold bolts as opposed to later braces of this type that bolt to the front of the intake manifold like the 1966 unit below.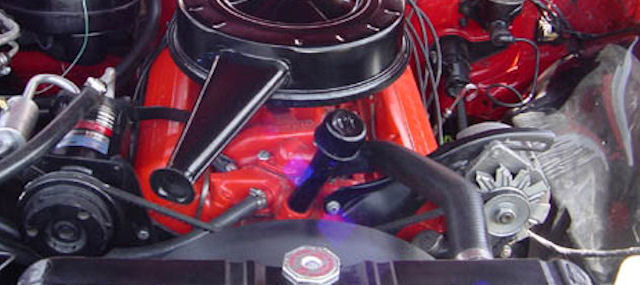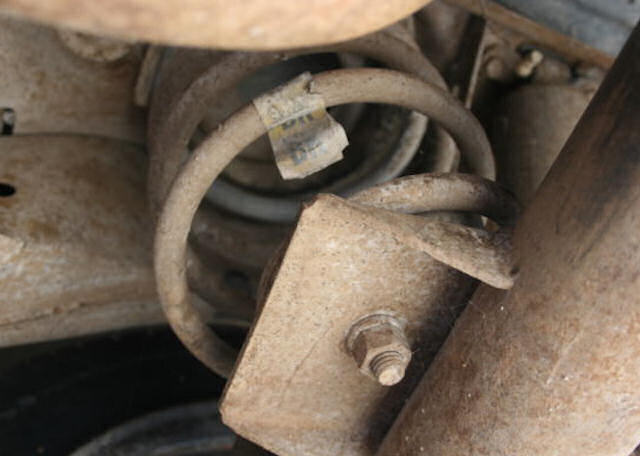 Rear spring mount