1965 Chevelle Fisher Body Number Plate General Information
[ 1964 ] | [ 1965 ] | [ 1966 ] | [ 1967 ] | [ 1968 ] | [ 1969 ] | [ 1970 ] | [ 1971 ] | [ 1972 ]
Generally, in 1965 the series/model designation on the trim tag is a trim level and not an indication of the engine type installed in the vehicle as Fisher Body didn't care what engine type was to be installed. Fremont and Oshawa are the only two known plants to match the Fisher Body style number with the series/model of the VIN. Baltimore and Framingham are known to use a style number with an even 3rd digit regardless; Atlanta, Euclid, and Kansas City are not certain and only the Vehicle Identification Number plate can determine whether the model was delivered with a V8 or L6 engine.

The SS series was produced with both the L6 engine and the V8 engine in both the 2 door sport coupe and convertible models. Hence, even numbered series/model (e.g., 13837) is assumed to be a V8 series while odd numbered series/model (e.g., 13737) are assumed to be a L6 series for production figures.

Indications are the body numbers are sequential for the particular series/model per plant.

A popular publication states, "On all 1965 through 1971 trim tags, the engine identification portion of the model identification number always indicates a V-8 engine. No 6-cylinder engine identification numbers are stamped on any trim tag." This is an incorrect statement for not only 1965 through 1971 but includes 1972 as well. There are numerous examples of trim tags with an odd 3rd-digit style on this website.

Group option Trim Codes

Links to Fisher Body Number Plates (a.k.a., trim tag, cowl tag, firewall tag, etc.)
KAN ~ Kansas City, Missouri ~ El Camino

Click either tag for more Kansas City examples...

Assembly month padded with leading zero where applicable.
Has dash character (-) after interior trim code.
Does separate lower and upper body colors with a dash character (-).
Includes group option codes.
Several production Z16 body plates included.
Mysterious "P" code found in Group 4 options.
El Camino tags have been found with both KAN and EUC Fisher Body plants.
Sometime around late June, a 2- to 4-digit number began appearing next to the body date and its meaning is unknown at this time.


OS ~ Oshawa, Ontario, Canada

Click tag for more Oshawa examples...

Wording and data presentation is different than any U.S. assembly plant.
Body date is completely different from U.S. assembly plant counterparts. Instead of a month and week letter, a real date is shown such as 4-13 for April 13. There is also a number ("1" or "2") preceding the date. It's been reported this leading number is a shift number for the Oshawa plant.
RPO codes for options requiring some type of modification are listed on the tag such as B70, C06, M35, etc. much like U.S. plants (Atlanta, Framingham & Kansas City) that use group codes.
A single letter is used for paint code. If it is a convertible, the top color will be listed with the RPO codes with wording such as TOP10 where '10' is the code for a black top.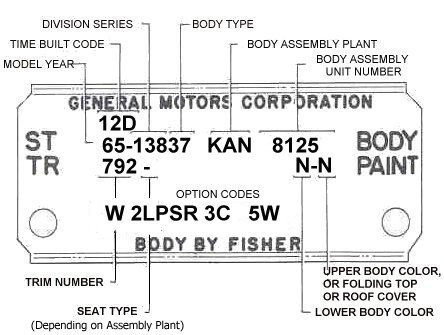 This is a typical example of a 1965 Chevelle trim/cowl tag for a Kansas City, MO. assembled Malibu SS Sport Coupe. Assembly plant body number plates varied from plant to plant in how the information was presented.
International Trim Tags


300 Deluxe 4-dr sedan trim tag from General Motors Continental Antwerp.


Malibu SS Convertible from Suisse S.A. Bienne Switzerland
Courtesy ~ Andre Laubach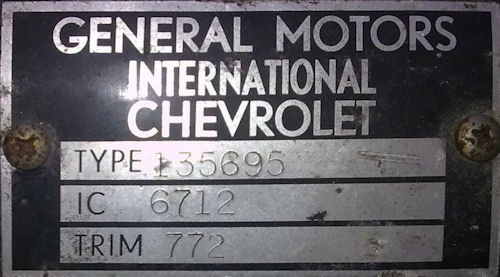 A Malibu 4-dr sedan trim tag from Norway.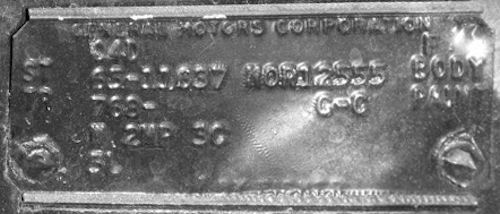 A typical trim tag from the Norwood, OH. plant for a 1965 Nova. The Nova trim tag was affixed next to the blower motor on the heater box as opposed to the Chevelle's trim tag location just above and to the inside of the master cylinder.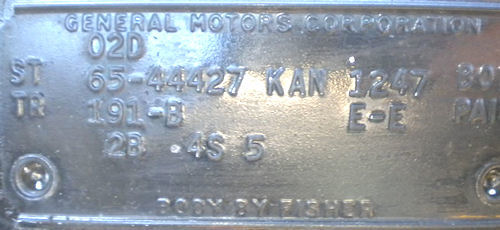 A 1965 Buick Skylark trim tag from the Fairfax plant in Kansas City, Kansas.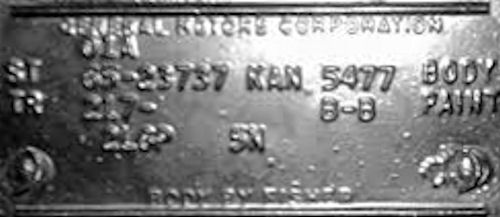 A 1965 Pontiac LeMans trim tag from the Fairfax plant in Kansas City, Kansas.
Anyone having a clear picture of 1965 Chevelle Body Number Plates (trim tags) and/or Protect-O-Plates, please contact me here.