1966 Chevelle Fisher Body Number Plate General Information
[ 1964 ] | [ 1965 ] | [ 1966 ] | [ 1967 ] | [ 1968 ] | [ 1969 ] | [ 1970 ] | [ 1971 ] | [ 1972 ]
Generally, in 1966 the series/model designation on the trim tag is a trim level and not an indication of the engine type installed in the vehicle as Fisher Body didn't care what engine type was to be installed. Fremont and Oshawa are the only two known plants to match the Fisher Body style number with the series/model of the VIN. Atlanta, Baltimore, Framingham, and Kansas City are known to use a style number with an even 3rd digit regardless; Flint is not certain and only the Vehicle Identification Number plate can determine whether the model was delivered with a V8 or L6 engine.

1966 was the first of three years the Chevelle SS396 was a separate series (13817/67) and not an option on the Malibu. The 1965 model year did have a 137xx & 138xx Malibu SS series but they were an appearance series and not a performance option.

The Sport Coupe model designation was changed from "37" to "17" for 1966 and 1967 only to denote the new 'Strut Back' or 'Flying Buttress' hardtop styling.

Indications are the body numbers are sequential for the particular series/model per plant even though some body styles numbers have been noticed 'out-of-sequence'.

A popular publication states, "On all 1965 through 1971 trim tags, the engine identification portion of the model identification number always indicates a V-8 engine. No 6-cylinder engine identification numbers are stamped on any trim tag." This is an incorrect statement for not only 1965 through 1971 but includes 1972 as well. There are numerous examples of trim tags with an odd 3rd-digit style on this website.

Group option Trim Codes

Links to Fisher Body Number Plates (a.k.a., trim tag, cowl tag, firewall tag, etc.)

When GM began production of the shoulder harness option, RPO A85, plants were directed that as of January 31, 1966 the trim tag should have a hole drilled/punched in the lower left corner to indicate the mounting provisions were being built into the bodies. See more here.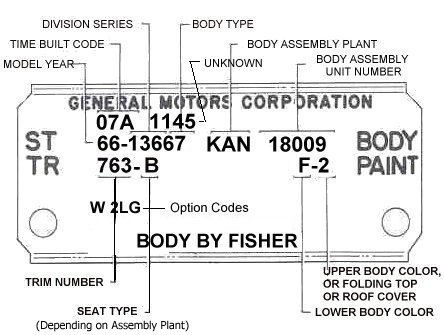 This is a typical example of a 1966 Chevelle trim/cowl tag for a Kansas City, MO. assembled Malibu convertible. Assembly plant body number plates varied from plant to plant in how the information was presented.


Just to tease a bit, here is an L6 Malibu Sport Coupe trim tag from General Motors Continental Antwerp.
Anyone having a clear picture of 1966 Chevelle Body Number Plates (trim tags) and/or Protect-O-Plates, please contact me here.
---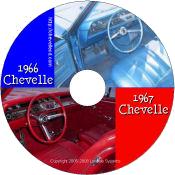 Want more in-depth information on 1966/1967 Chevelles? Take a test drive of my 1966/1967 Chevelle Reference CD.