1964 Chevelle Fisher Body Number Plate General Information
[ 1964 ] | [ 1965 ] | [ 1966 ] | [ 1967 ] | [ 1968 ] | [ 1969 ] | [ 1970 ] | [ 1971 ] | [ 1972 ]
Generally, in 1964 the series/model designation on the trim tag is a trim level and not an indication of the engine type installed in the vehicle as Fisher Body did not care what engine type was to be installed. Fremont and Oshawa are the only two known plants to match the Fisher Body style number with the series/model of the VIN. Atlanta, Kansas City, and Van Nuys are known to use a style number with an even 3rd digit regardless; Baltimore and Euclid are not certain so only the Vehicle Identification Number plate can determine whether the model was delivered with a V8 or L6 engine.

The Malibu SS series was produced with both the L6 engine and the V8 engine in both the 2 door sport coupe and convertible models and the VIN for this series is unique from the Malibu.

Indications are the body numbers are sequential for the particular series/model per plant.

A popular publication states, "The model designation number will coincide with the firewall trim tag model number on V-8 equipped cars only. The firewall trim tags were only stamped with a V-8 designation even if a six-cylinder was installed from the factory." This is an incorrect statement for 1964 Chevelles. There are numerous examples of trim tags with an odd 3rd-digit style on this website and even trim tags with an even 3rd digit and the VIN having an odd 3rd digit.

Group option Trim Codes

Links to Fisher Body Number Plates (a.k.a. trim tag, cowl tag, firewall tag, etc.)
Anyone having a clear picture of 1964 Chevelle Body Number Plates (trim tags), please contact me here.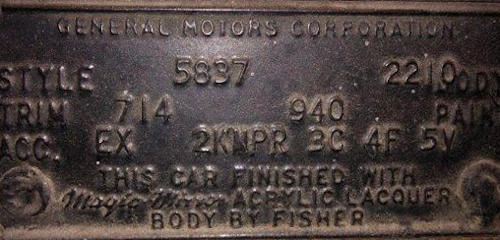 Here's a rather unusual example. Not only is there no body assembly date, there is no final assembly plant shown. Due to the format and verbiage of just "GENERAL MOTORS CORPORATION' on the top line, it is believed this is a Kansas City plant trim tag.
Just for fun: Chevy II, Buick Skylark, Olds Cutlass, and Pontiac Lemans trim tags from 1964.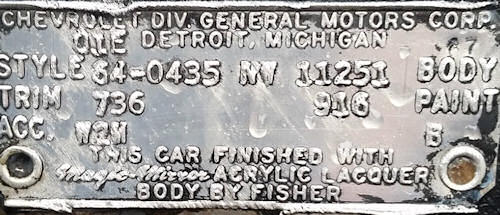 Chevy II station wagon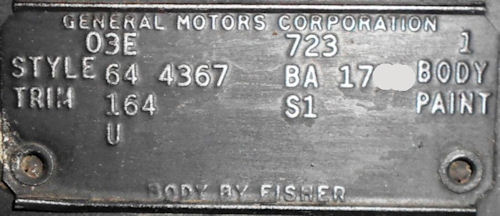 Buick Skylark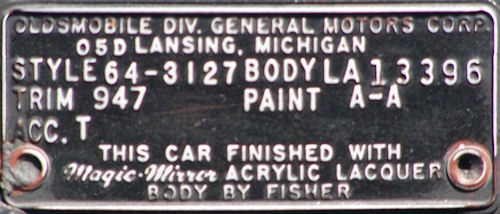 Olds Cutlass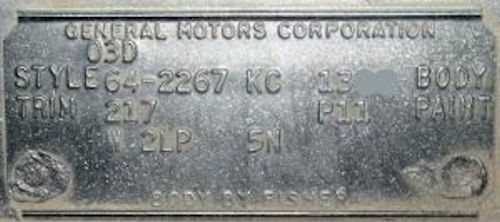 Pontiac LeMans
International Trim Tags


Malibu 4-door sedan from Suisse S.A. Bienne Switzerland
Courtesy ~ Valery Martin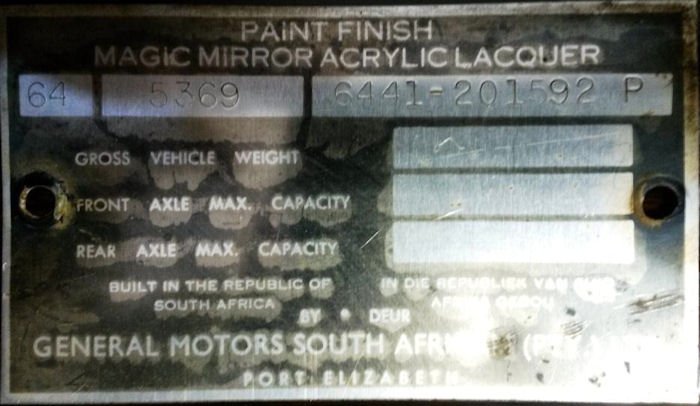 Chevelle 300 4-door sedan from Port Elizabeth, South Africa
Courtesy ~ Kragen Govender of South Africa.