1965 El Camino Body Number Plates ~ Kansas City, MO. (KAN)
[ 1964 ] | [ 1965 ] | [ 1966 ] | [ 1967 ] | [ 1968 ] | [ 1969 ] | [ 1970 ] | [ 1971 ] | [ 1972 ]
It is unknown if in 1965 Kansas City coded all trim tag style numbers with an even 3rd digit so the Fisher Body Style number is not a valid resource to tell if the car was a V8 or L6.
Additional El Camino Fisher Body plates from Euclid, Ohio for final assembly at Kansas City
.
Fisher Body plates on this page for Kansas City indicated KAN as Fisher Body plant. Euclid, OH. also supplied raw body assemblies to Kansas City.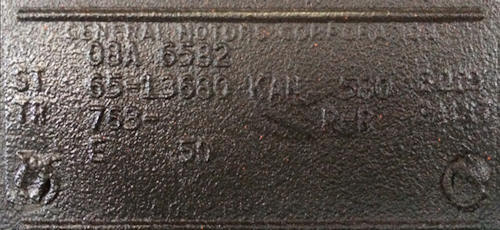 08A ~ Body Date - August 1st week
ST 65-13680 ~ 1965 Malibu Series El Camino (Known 6-cyl car)
KAN ~ Body Assembly ~ Kansas City, Missouri
580 BODY ~ Fisher Body unit number
TR 763- ~ Light Fawn Ramada Cloth, Imitation Leather (bench seat)
R-R PAINT ~ Regal Red (lower-upper)
E 50
| | |
| --- | --- |
| Group 1 | E ~ Tinted windows (all) [RPO A01] |
| Group 5 | O ~ Suspect seat belt delete [RPO A62] |
---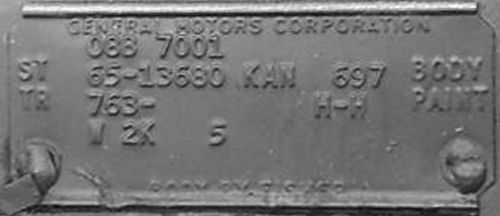 VIN 135805Kxxxxxx
08B ~ Body Date - August 2nd week
ST 65-13680 ~ 1965 Malibu Series El Camino (Known 6-cyl car)
KAN ~ Body Assembly ~ Kansas City, Missouri
697 BODY ~ Fisher Body unit number
TR 763- ~ Light Fawn Ramada Cloth, Imitation Leather (bench seat)
H-H PAINT ~ Willow Green (lower-upper)
W 2K 5
| | |
| --- | --- |
| Group 1 | W ~ Tinted windshield (only) [RPO A02] |
| Group 2 | K ~ Air conditioning [RPO C60] |
| Group 5 | |
13580 VIN indicates a 6-cyl car as does the engine
---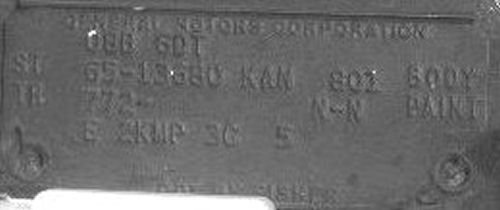 08B ~ Body Date - August 2nd week
ST 65-13680 ~ 1965 Malibu Series El Camino
KAN ~ Body Assembly ~ Kansas City, Missouri
801 BODY ~ Fisher Body unit number
TR 772- ~ Medium Red Ramada Cloth, Imitation Leather (bench seat)
N-N PAINT ~ Madeira Maroon (lower-upper)
E 2KMP 3C 5
| | |
| --- | --- |
| Group 1 | E ~ Tinted glass (all) [RPO A01] |
| Group 2 | K ~ Air conditioning [RPO C60] |
| | M ~ Powerglide transmission [RPO M35] |
| | P ~ Comfort & convenience group (Type A) [RPO Z01] |
| Group 3 | C ~ Padded dash [RPO B70] |
| Group 5 | |