1971 El Camino Body Number Plates ~ Kansas City, MO. (K)
[ 1964 ] | [ 1965 ] | [ 1966 ] | [ 1967 ] | [ 1968 ] | [ 1969 ] | [ 1970 ] | [ 1971 ] | [ 1972 ]
It is known that in 1971 Kansas City coded trim tag style numbers with an even 3rd digit for a V8 and an odd 3rd digit for an L6 so the Fisher Body Style number is a valid resource to tell if the car was a V8 or L6.
Various letters are found on the third line of the trim tag. These include:
B or W: Reported to indicate the color of optional D88 hood and deck stripes.
L: Probably the most controversial is the letter L found on Malibu series Chevelles. It's strongly believed this letter L indicates external SS Equipment trim but this has NOT been confirmed by any direct knowledge or GM documentation. While using this letter as a way to determine if your 1971 Chevelle is a true SS or not is up to you, there is no 100% guarantee but there is strong evidence that it does.
Z: Found on 13380 El Camino.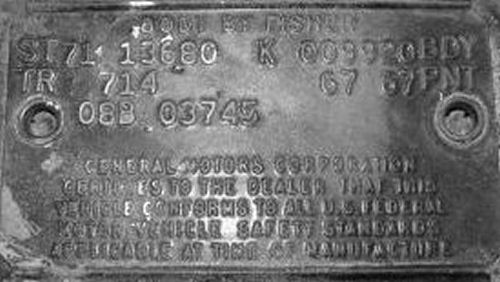 ST 71 13680 ~ 1970 Malibu Series El Camino
K ~ Body Assembly ~ Kansas City, Missouri
009920 BDY ~ Data processing number for tracking purposes - blocks 8 & 24 of build sheet
TR 714 ~ Antique Light Sandalwood Coated Fabric (bench seat)
67 67 PNT ~ Classic Copper (lower-upper)
08B ~ Body Date - August 2nd week
03745 ~ Data processing number from build sheet
---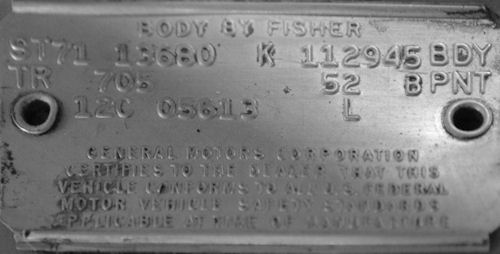 ST 71 13680 ~ 1970 Malibu Series El Camino
K ~ Body Assembly ~ Kansas City, Missouri
112945 BDY ~ Data processing number for tracking purposes - blocks 8 & 24 of build sheet
TR 705 ~ Black Elk Coated Fabric, Black Coated Fabric (bench seat)
52 B PNT ~ Sunflower Yellow, black vinyl top (lower-upper)
12C ~ Body Date - December 3rd week
05613 ~ Data processing number from build sheet
L ~ See Kansas City trim tag properties
---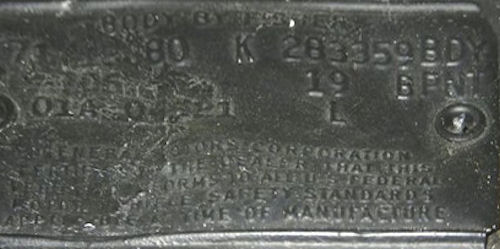 ST 71 13680 ~ 1970 Malibu Series El Camino
K ~ Body Assembly ~ Kansas City, Missouri
283359 BDY ~ Data processing number for tracking purposes - blocks 8 & 24 of build sheet
TR 705 ~ Black Elk Coated Fabric, Black Coated Fabric (bench seat)
19 B PNT ~ Tuxedo Black, black vinyl top (lower-upper)
01A ~ Body Date - January 1st week
04521 ~ Data processing number from build sheet
L ~ See Kansas City trim tag properties
---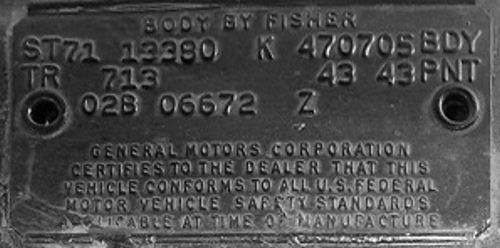 ST 71 13380 ~ 1971 Chevelle Series El Camino
K ~ Body Assembly ~ Kansas City, Missouri
470705 BDY ~ Data processing number for tracking purposes - blocks 8 & 24 of build sheet
TR 713 ~ Light Sandalwood Coated Fabric, Antique Light Sandalwood Coated Fabric (bench seat)
43 43 PNT ~ Lime Green (lower-upper)
02B ~ Body Date - February 1st week
06672 ~ Data processing number from build sheet
Z ~ See Kansas City trim tag properties
---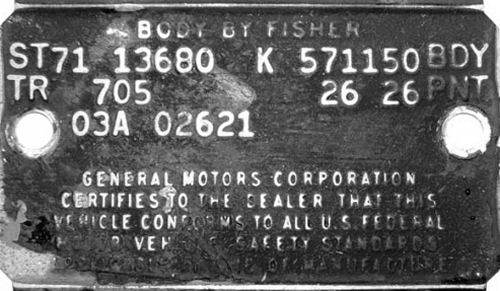 ST 71 13680 ~ 1970 Malibu Series El Camino
K ~ Body Assembly ~ Kansas City, Missouri
571150 BDY ~ Data processing number for tracking purposes - blocks 8 & 24 of build sheet
TR 705 ~ Black Elk Coated Fabric, Black Coated Fabric (bench seat)
26 26 PNT ~ Mulsanne Blue (lower-upper)
03A ~ Body Date - March 1st week
02621 ~ Data processing number from build sheet