1965 El Camino Body Number Plates ~ Baltimore, MD. (B)
[ 1964 ] | [ 1965 ] | [ 1966 ] | [ 1967 ] | [ 1968 ] | [ 1969 ] | [ 1970 ] | [ 1971 ] | [ 1972 ]
It is known that in 1965 Baltimore coded all trim tag style numbers with an even 3rd digit so the Fisher Body Style number is not a valid resource to tell if the car was a V8 or L6.
Additional El Camino Fisher Body plates from Euclid, Ohio for final assembly at Baltimore
.
Fisher Body plates on this page for Baltimore indicated BAL as Fisher Body plant. Euclid, OH. also supplied raw body assemblies to Baltimore.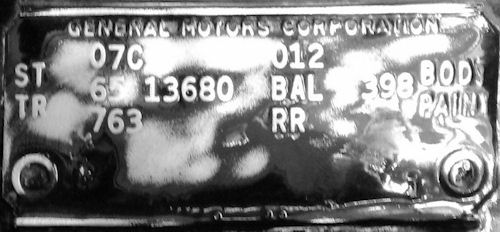 07C ~ Body Date - July 3rd week
012 ~ Job number on trim sheet
ST 65-13680 ~ 1965 Malibu Series El Camino
BAL ~ Body Assembly ~ Baltimore, Maryland
398 BODY ~ Fisher Body unit number
TR 763 ~ Light Fawn Ramada Cloth, Imitation Leather (bench seat)
RR PAINT ~ Regal Red (lower-upper)
1 ~ Believed to be the gate, or body assembly platform number, or body production line number used during assembly.
(Sequence #177453)
---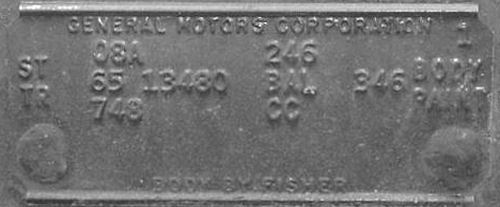 08A ~ Body Date - August 1st week
246 ~ Job number on trim sheet
1 ~ Believed to be the gate, or body assembly platform number, or body production line number used during assembly.
ST 65-13480 ~ 1965 300 Deluxe Series El Camino
BAL ~ Body Assembly ~ Baltimore, Maryland
346 BODY ~ Fisher Body unit number
TR 748- ~ Medium Turquoise Pattern Imitation Leather (bench seat)
CC PAINT ~ Ermine White (lower-upper)