1972 El Camino Body Number Plates ~ Baltimore, MD. (B)
[ 1964 ] | [ 1965 ] | [ 1966 ] | [ 1967 ] | [ 1968 ] | [ 1969 ] | [ 1970 ] | [ 1971 ] | [ 1972 ]
It is known that in 1972 Baltimore coded trim tag style numbers with an even 3rd digit for a V8 and an odd 3rd digit for an L6 so the Fisher Body Style number is a valid resource to tell if the car was a V8 or L6.
Various letters are found on the third line of the trim tag. These include:
B: B has been found on El Camino/GMC Sprint and 13857 Monte Carlo and sometimes with D and does NOT indicate SS Equipment.
D: D has been found on 13637 sport coupe and whether or not this indicates an SS Equipment optioned Chevelle is unclear.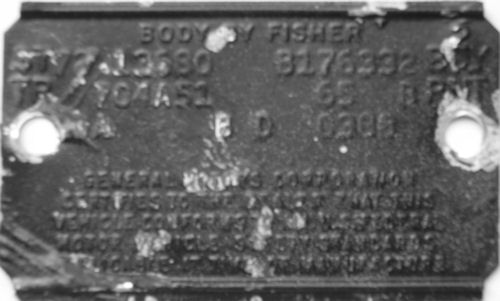 ST 72 13680 ~ 1972 Malibu Series El Camino
B ~ Body Assembly ~ Baltimore, Maryland
176332 BDY ~ Fisher Body unit number
2 ~ suspect body gate
TR 704 A51 ~ Black Elk CTO, Coated Fabric (bucket seat)
65 B PNT ~ Orange Flame, black vinyl top (lower-upper)
10A ~ Body Date - October 1st week
B D ~ See Baltimore trim tag properties
0388 ~ Data processing number - block 24 of build sheet
---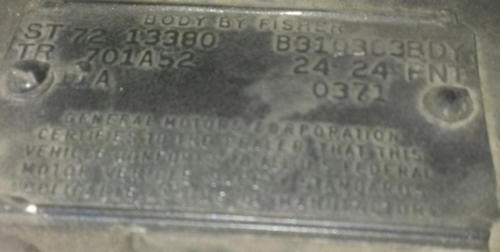 ST 72 13380 ~ 1972 Chevelle Series El Camino
B ~ Body Assembly ~ Baltimore, Maryland
310383 BDY ~ Fisher Body unit number
3 ~ suspect body gate
TR 701 A51 ~ Black Pinta CTO/Coated Fabric (bucket seat)
24 24 PNT ~ Ascot Blue (lower-upper)
11A ~ Body Date - November 1st week
0371 ~ Data processing number - block 24 of build sheet
---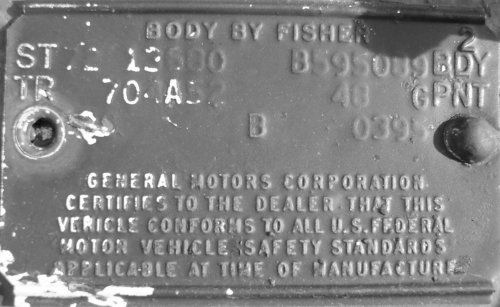 2 ~ Suspect body cradle number or production line
ST 72 13680 ~ 1972 Malibu Series El Camino
B ~ Body Assembly ~ Baltimore, Maryland
595089 BDY ~ Fisher Body unit number
2 ~ suspect body gate
TR 704 A52 ~ Black Elk CTO, Coated Fabric (bench seat)
48 G PNT ~ Sequoia Green, medium green vinyl top (lower-upper)
?? ~ Body Date - unreadable
B ~ See Baltimore trim tag properties
0395 ~ Data processing number - block 24 of build sheet
---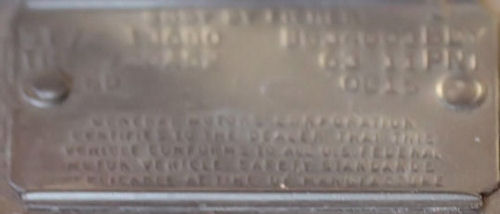 ST 72 13680 ~ 1972 Malibu Series El Camino
B ~ Body Assembly ~ Baltimore, Maryland
?????? BDY ~ Fisher Body unit number
TR ??? A52 ~ unreadable (bench seat)
63 11 PNT ~ Mohave Gold, Antique White (lower-upper)
?? ~ Body Date - unreadable
0x15 ~ Data processing number - block 24 of build sheet
---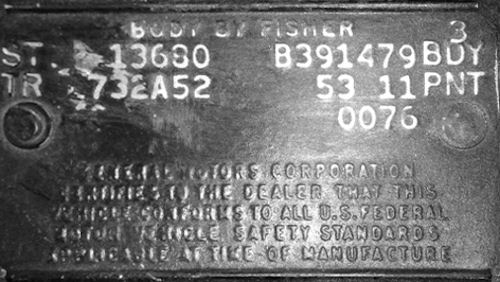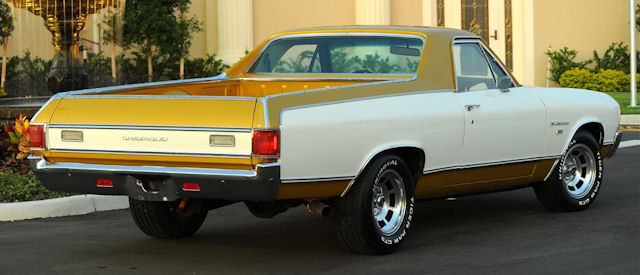 3 ~ Suspect body cradle number or production line
ST 72 13680 ~ 1972 Malibu Series El Camino
B ~ Body Assembly ~ Baltimore, Maryland
391479 BDY ~ Fisher Body unit number
TR 732 A52 ~ Antique Light Covert Elk Coated Fabric (bench seat)
53 11 PNT ~ Placer Gold, Antique White (lower-upper)
4C ~ Body Date - appears to be April 3rd week
0076 ~ Data processing number - block 24 of build sheet
---

1 ~ Suspect body cradle number or production line
ST 72 13680 ~ 1972 Malibu Series El Camino
B ~ Body Assembly ~ Baltimore, Maryland
597665 BDY ~ Fisher Body unit number
TR 701 A52 ~ Black Rianon Cloth, Black Coated Fabric (bench seat)
56 B PNT ~ Cream Yellow, black vinyl top (lower-upper)
6A ~ Body Date - appears to be June 1st week
B ~ See Baltimore trim tag properties
0599 ~ Data processing number - block 24 of build sheet
---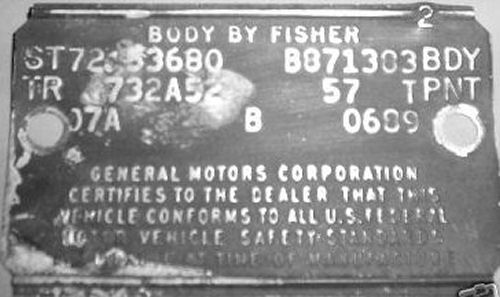 2 ~ Suspect body cradle number or production line
ST 72 53680 ~ 1972 GMC Sprint (Custom)
B ~ Body Assembly ~ Baltimore, Maryland
871303 BDY ~ Fisher Body unit number
TR 732 A52 ~ Antique Light Covert Elk Coated Fabric (bench seat)
57 T PNT ~ Golden Brown, light covert vinyl top (lower-upper)
07A ~ Body Date - July 1st week
B ~ See Baltimore trim tag properties
0689 ~ Data processing number - block 24 of build sheet