1971 El Camino Body Number Plates ~ Baltimore, MD. (B)
[ 1964 ] | [ 1965 ] | [ 1966 ] | [ 1967 ] | [ 1968 ] | [ 1969 ] | [ 1970 ] | [ 1971 ] | [ 1972 ]
It is known that in 1971 Baltimore coded trim tag style numbers with an even 3rd digit for a V8 and an odd 3rd digit for an L6 so the Fisher Body Style number is a valid resource to tell if the car was a V8 or L6.
Various letters are found on the third line of the trim tag. These include:
B: B has been found on convertible, 13437 sport coupe, 13569 Malibu 4-Door Sedan, Monte Carlo and sometimes with D and does NOT indicate SS Equipment.
D: D has been found on convertible and El Camino, sometimes with B.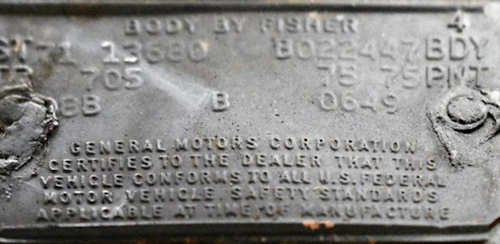 4 ~ Plant production line
ST 71 13680 ~ 1971 Malibu Series
B ~ Body Assembly ~ Baltimore, Maryland
022447 BDY ~ Fisher Body data processing number
TR 705 ~ Black Elk Coated Fabric, Black Coated Fabric (bench seat)
75 75 PNT ~ Cranberry Red (lower-upper)
08B ~ Body Date - August 2nd
B ~ See Baltimore trim tag properties
0649 ~ Data processing number - block 24 of build sheet
---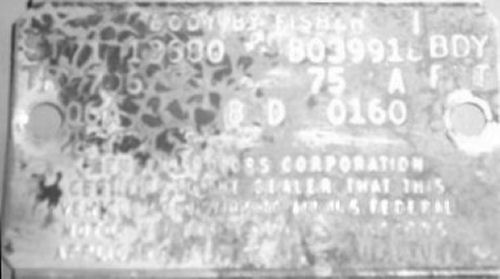 1 ~ Plant production line
ST 71 13680 ~ 1970 Malibu Series El Camino
B ~ Body Assembly ~ Baltimore, Maryland
039918 BDY ~ Fisher Body data processing number
TR 706 ~ Black Elk Coated Fabric, Black Coated Fabric (bench seat)
75 A PNT ~ Cranberry Red, black vinyl top (lower-upper)
06A ~ Body Date - June 1st week
B D ~ See Baltimore trim tag properties
0160 ~ Data processing number - block 24 of build sheet
GMC Sprint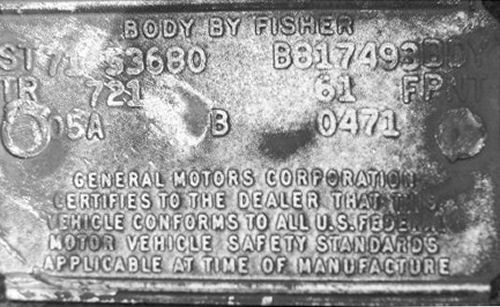 ST 71 53680 ~ 1971 GMC Sprint (Custom)
B ~ Body Assembly ~ Baltimore, Maryland
817493 BDY ~ Fisher Body data processing number
TR 721 ~ Antique Dark Saddle Elk Coated Fabric (bench seat)
61 F PNT ~ Sandalwood, brown vinyl top (lower-upper)
05A ~ Body Date - May 1st week
B ~ See Baltimore trim tag properties
0471 ~ Data processing number - block 24 of build sheet
---