1966 Chevelle SS396
[ 1964 ] | [ 1965 ] | [ 1966 ] | [ 1967 ] | [ 1968 ] | [ 1969 ] | [ 1970 ] | [ 1971 ] | [ 1972 ]
Any comments/corrections/additions please send them to me and be sure to specify which year.
The 1966 Chevelle SS396 was a separate series from the 300, 300 Deluxe & Malibu series and can be readily identified by both the Fisher Body Number plate (a.k.a. trim tag, cowl tag, etc.) and the Vehicle Identification plate (VIN).
The 1966 SS396 was available in both sport coupe (17) and convertible (67) models and the 396 cid Mark-IV engine was the base engine. Gone was the Malibu SS with either a L6 or V8 engine in the U.S, Canada still offered a Malibu SS. The Fisher Body style numbers 13817 & 13867 and VINs beginning with 13817 & 13867 will note an SS396. As with all years of Super Sports, the VIN only depicts the base engine and does not indicate any optional engine. The base 396 engine was the (L35) 325hp engine with two optional 396 engines, the L34 360hp version and a L78 375hp version.
Although the El Camino could be ordered with any 396 engine, there are no SS396 1966 El Caminos; no SS396 badging, no Super Sport hood and no SS396 rocker panel moldings. A 396-optioned El Camino would have the 396 Turbo-Jet flags on the front fender however.
Contrary to popular belief bucket seats, gauges, and 4-speeds were not standard equipment. A front bench seat, no gauges (except speedometer, clock, and fuel gauge), and a 3-speed heavy duty floor shifted transmission were standard with the SS396.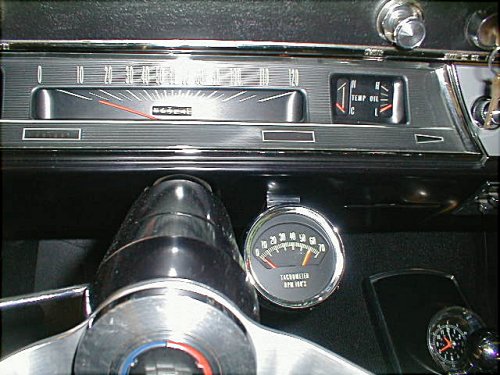 RPO U14 Special Instrumentation was optional on all L6 and V8 Malibu and SS396 Chevelle sport coupes, convertibles, and El Caminos. This option included tachometer (V8 only), mechanical oil pressure gauge, amp gauge, and water temperature gauge. The tachometer could be ordered without the gauges under RPO U16 on any V8 Chevelle series.

Three versions were available in the SS396 series, a 0-6000 RPM range with the redline at 5000 for the base 396/325hp, a 0-7000 RPM range with the redline at 5500 for the optional L34 396/360hp and a 0-7000 RPM range with the redline at 6000 for the L78 396/375hp engine. Only the 0-6000 RPM range was available for the 283 and 327 engines on non-SS396 Chevelles.
Distinctive blacked out grille, Super Sport trim, a special SS396 hood with faux twin scoops, SS396 emblems on the grille and rear cove, Super Sport script on the rear quarter panels, and ribbed rocker panel and quarter panel moldings.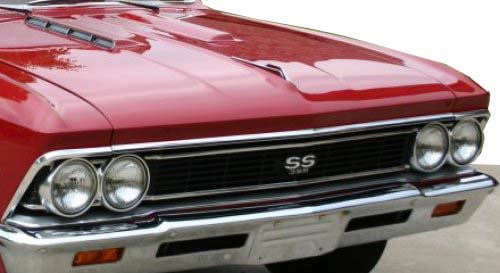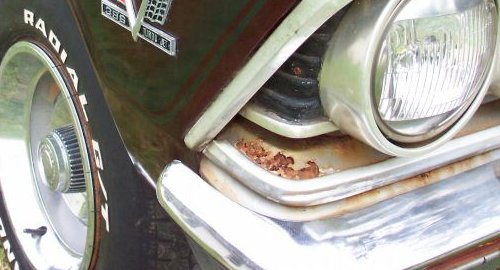 Note special SS396 hood with twin faux scoops, blacked-out grille with SS396 emblem, blacked-out headlamp bezels, and Argent Silver bumper filler panel.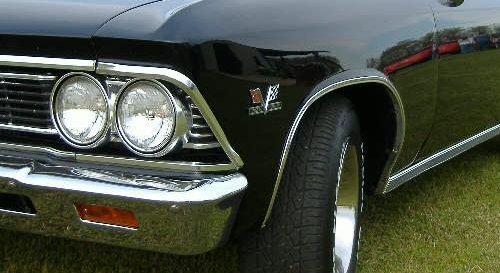 Correct SS396 grille extensions are not readily available but 300/300 Deluxe/Malibu extensions are the same with the exception of the bright horizontal bars. These should be blacked-out on an SS396 but many people fail to do so. Upper photo here is a Malibu.



There is some debate as to whether the rear cove was blacked-out or body color. Early Atlanta cars are known to have had blacked-out panels but due to demand and costs this practice was stopped at Atlanta early the production year. Whether other plants followed suit or not is debatable. It is known many dealers blacked-out the rear cove because the cars sold better.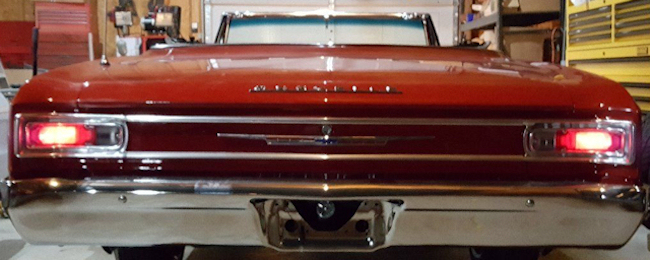 Compare a Malibu rear cove with centered emblem and C_H_E_V_E_L_L_E script on trunk lid.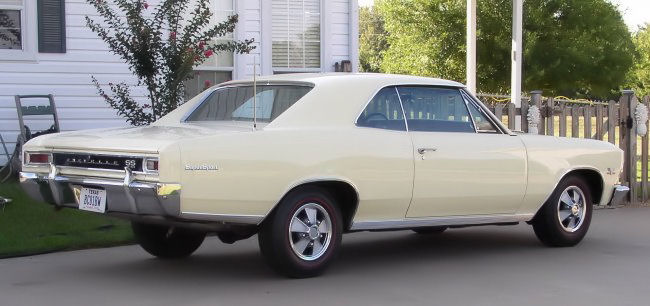 Note the ribbed lower trim pieces, the Super Sport rear quarter panel script and the 396 Turbo-Jet front fender emblems.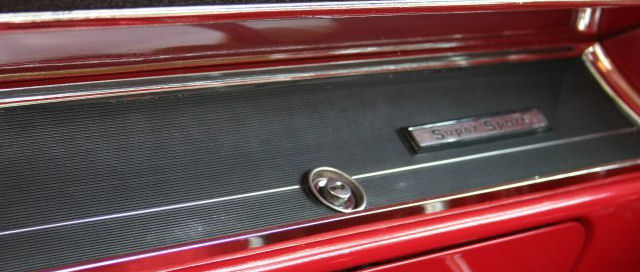 The 1966 SS396 dash received a Super Sport emblem on the bezel above the glove compartment which was simply glued over the existing Malibu script.
It should be noted that Canada produced a Malibu SS in 1966. This was a standard 135/136xx Malibu with a special package called The Sports Option. This Malibu SS continued to use the Malibu SS quarter panel trim from the 1965 Malibu SS but could be ordered with any available engine. See The Obscure Malibu SS of 1966/67 for more specifics on this Canadian option.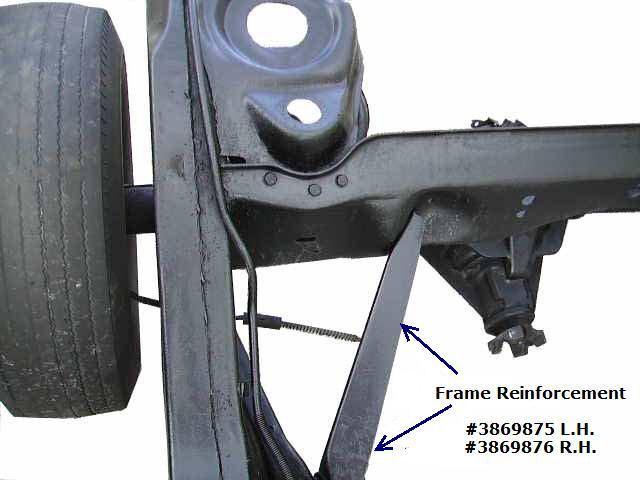 All SS396 Chevelles came with a 12-bolt rear end but Positraction was still an option; an open rear end was standard. However, a 12-bolt rear end, as well as Positraction, was available on non-SS396 Chevelles as well so the presence of a 12-bolt (with or without Positraction) is not an indication of a 1966 SS396 Chevelle. All SS396 Chevelles also came with rear frame reinforcements but could easily be added to any Malibu coupe or convertible.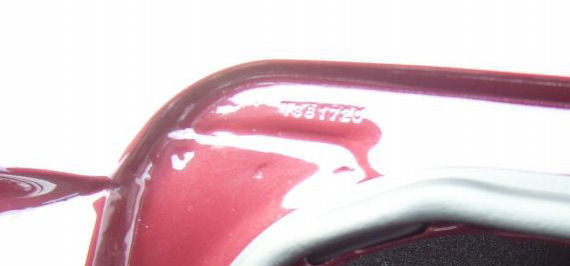 Found along the inner lip of the rear quarter panel, not actually a partial VIN but believed to be associated with the series/model ID due to differences between the Malibu and SS396 rear quarter panel piercing for emblem placement. This stamped number is located on the right rear quarter panel where the trunk lid meets the body next to the weather stripping material. While both 136xxxx stampings have been found on SS and non-SS Chevelles and 138xxxx stampings have been found on SS and non-SS Chevelles, those cases are rare and could be attributed to many things such as panel replacement from another Chevelle. The series/model identification is followed by another 2-digit number. These two digits indicate the calendar week the panel was stamped. (Courtesy Jeff Helms)
Caveat: Numerous original cars have been reported with the 'wrong' 136xx vs 138xx stamping. Whether this was due to poor quality control, inattention by the workers, or panels stacked in the wrong location is not known.


---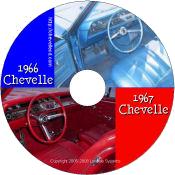 Want more information on 1966 Chevelles in general? Take a test drive of my 1966/1967 Chevelle Reference CD.