1965 Chevelle Malibu SS
[ 1964 ] | [ 1965 ] | [ 1966 ] | [ 1967 ] | [ 1968 ] | [ 1969 ] | [ 1970 ] | [ 1971 ] | [ 1972 ]
Any comments/corrections/additions please send them to me and be sure to specify which year.
The 1965 Chevelle Malibu SS was a separate series from the 300, 300 Deluxe & Malibu series and can be readily identified by both the Fisher Body Number plate (a.k.a. trim tag, cowl tag, etc.) and the Vehicle Identification Number plate (VIN).
The 1965 Malibu SS was available in both sport coupe (37) and convertible (67) models and with both L6 and V8 engines. The Fisher Body style numbers 13737, 13837, 13767, & 13867 and VINs beginning with 13737, 13767, 13837, & 13867 will note a Malibu SS. While the Fisher Body plate style numbers (such as 13837) will usually coincide with the series/model number of the VIN (such as 13837), that is not always the case since Fisher Body at some plants did not care what engine (L6 or V8) went into a particular body. There are instances of a Fisher Body style number with an even-numbered 3rd digit (8) and the VIN having an odd-numbered 3rd digit (7). The VIN is the REAL proof the car was a L6 or V8 originally. As with all years of Super Sports, the VIN only depicts the base engine and does not indicate any optional engine.
Beginning around March of 1965, a run of 200 special Malibu SS 396 Chevelles were built at Kansas City, under regular production option (RPO) Z16, in preparation of the SS396 to be introduced in 1966 as a separate series from the Malibu SS and was to become the SS396 series. Some claim there were 200 sport coupes and 1 convertible built. There seems to be 'secretive' knowledge of this single Malibu SS 396 convertible but, to date, no documented proof of its existence has surfaced and made public other than it was a one-off unit done in triple tan or gold and was used as fleet car until purchased by a GM engineer. The car was reportedly sold a short time later but it has not been seen or heard of since. GM's paperwork on the new Malibu SS 396 can be seen here.
Also not mentioned in the 200/201 figure are the two test mules send to engineering for modification and test fit of components that were to go into the 200 sport coupe production run. Both were standard 327/300 4-speed Malibu SS sport coupes built at Baltimore. One is pretty much known to have been destroyed and one remains. The remaining test mule did not get the upgraded frame or brakes.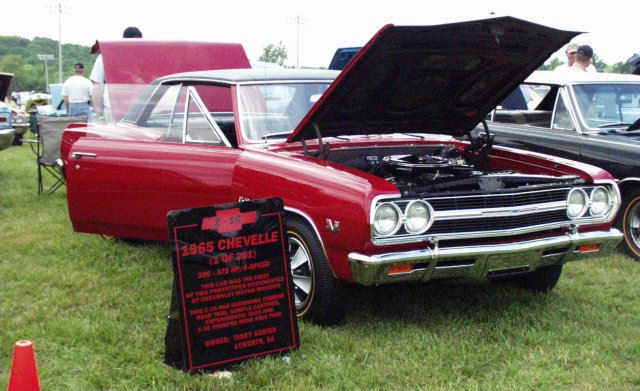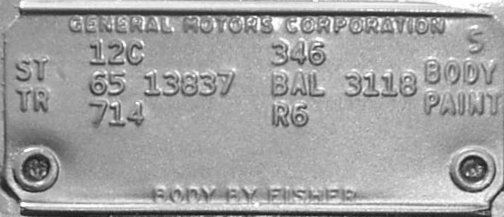 The 1965 Malibu SS added a few more external identification over the 1964 model. The Malibu SS also included bucket seats, center console (4-speed & Powerglide automatic transmissions), and gauges. The tachometer (RPO U14) was optional on any V8 Chevelle. It's reported the three-speed manual transmissions did not have a console and the Powerglide could be ordered with a column shift and have the console deleted. If a column-shift was requested the bucket seats were still standard but the bucket seats could be swapped for a bench seat.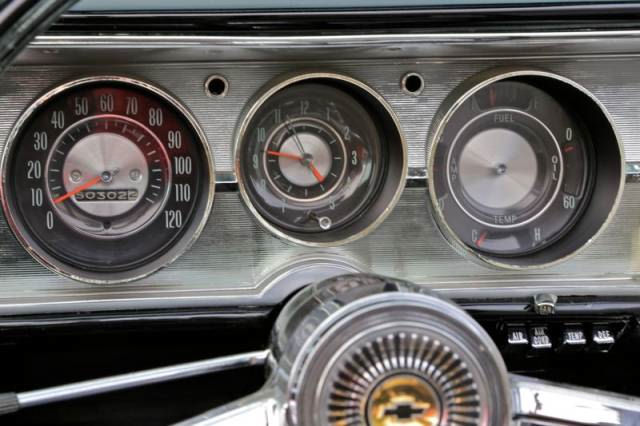 Standard Malibu SS dash with gauges and clock.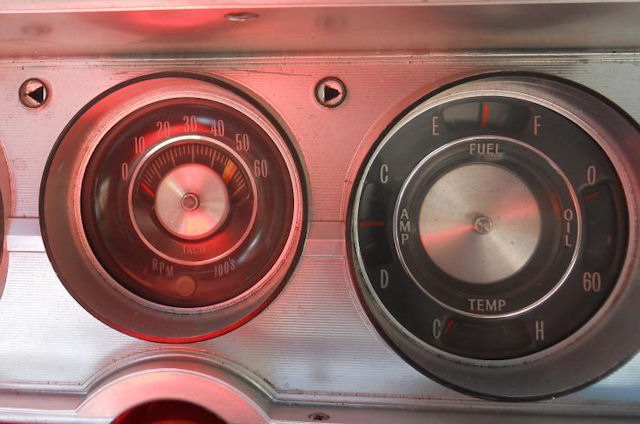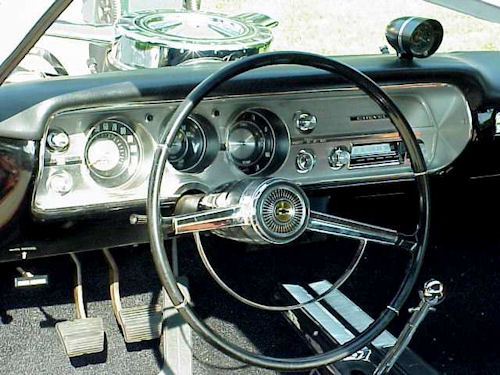 When the optional tachometer (RPO U16 was ordered), the standard clock was moved to the top center of the dash.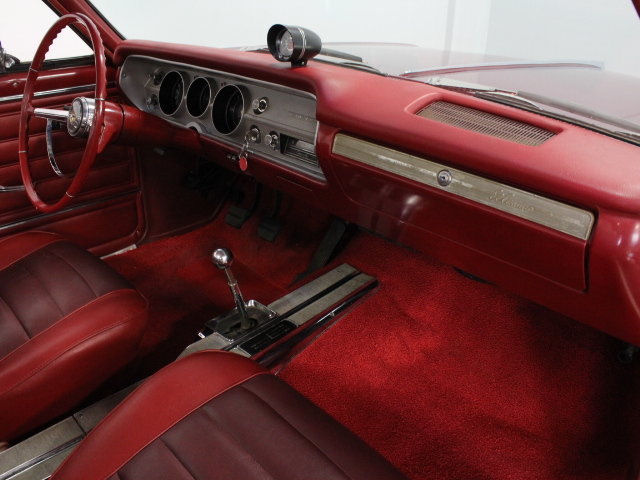 It should be noted that non Malibu SS Chevelles, like this El Camino, could order the U16 tach as well and ordering this option also moved the clock to the top of the dash.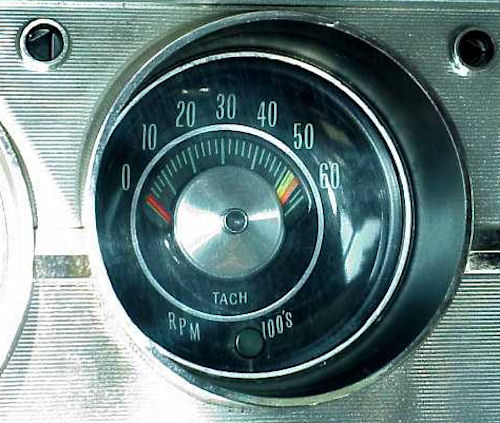 Note the redline at 5600 RPMs on the L79 tachometer.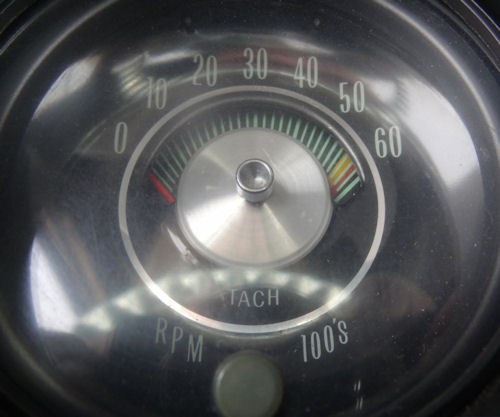 Note the difference in this reproduction tachometer to the one above.

P1 ~ Evening Orchid (SS only color)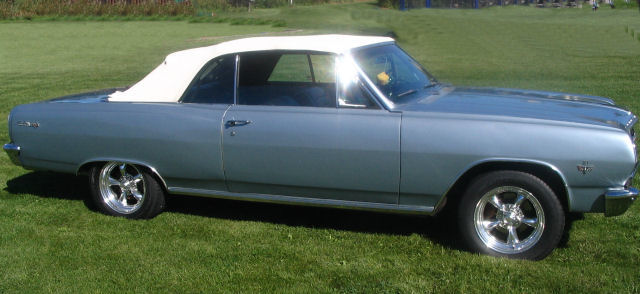 W1 ~ Glacier Gray (SS only color)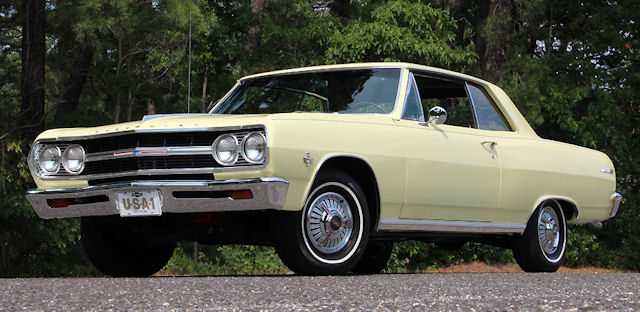 YY ~ Crocus Yellow (SS only color)
Naturally the Malibu SS was available in any other color offered in 1964 to include any of the eight two-tone combinations.
Since the Malibu SS came with both L6 and V8 engines, whether the car came with a 10-bolt or 12-bolt rear end cannot be used to identify a 1965 Malibu SS. Likewise, Positraction was an option and can not be used to identify a 1965 Malibu SS.
The Malibu SS emblems were retained on the quarter panels, the rear cove Malibu SS emblem was redesigned and moved, and the rear cove received the distinctive blacked-out area shown on all but Tuxedo Black where the cove was done in silver although dealer books of the era show Tuxedo Black, Danube Blue, and Cypress Green may fall into the silver category as well. Anyone with a photo, like one of those here of the rear cove area, of an original Danube Blue or Cypress Green is encouraged to send it along for confirmation.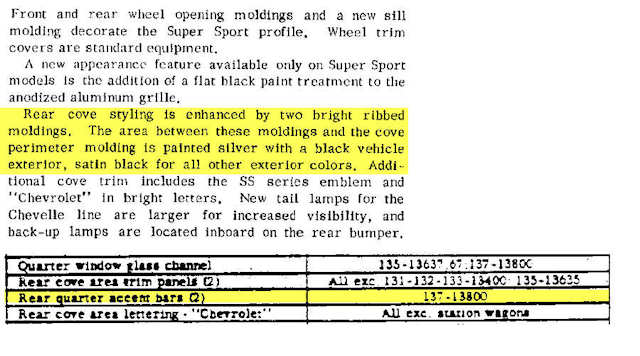 From GM's "restoration kit" for the 1965 Chevelle. However, several owners of original Danube Blue Malibu SS cars have noted the area in question is, indeed, silver and not black. To date no memos have surfaced indicating a change in policy but it does leave one to wonder. Sadly the note (2) is not in the documentation so it could refer to a revision.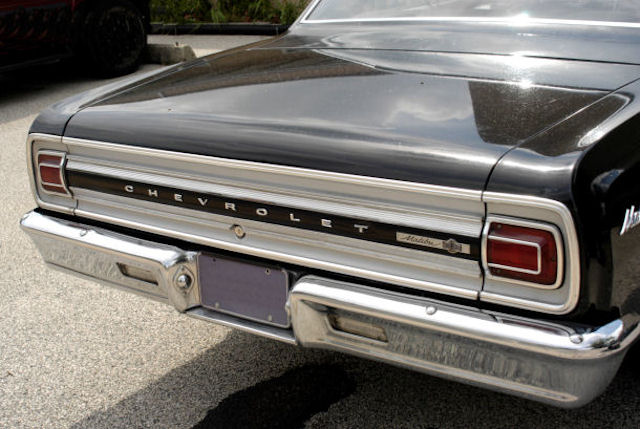 Black Malibu SS with silver cove.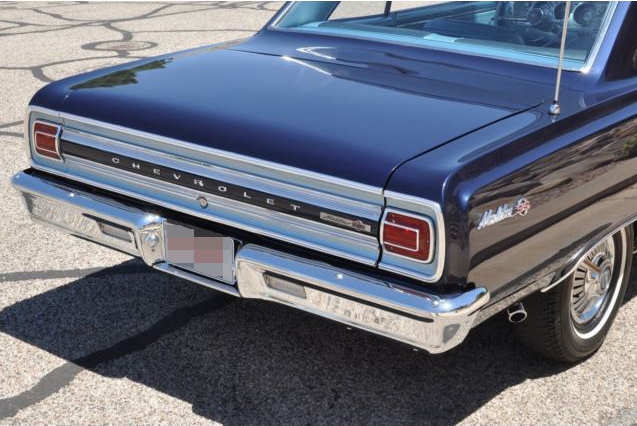 Danube Blue SS with silver cove. Whether accurate or not I cannot say.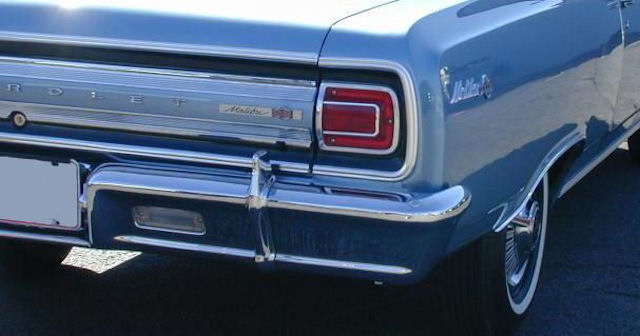 Mist Blue Malibu SS with black cove.


Cypress Green Malibu SS with black cove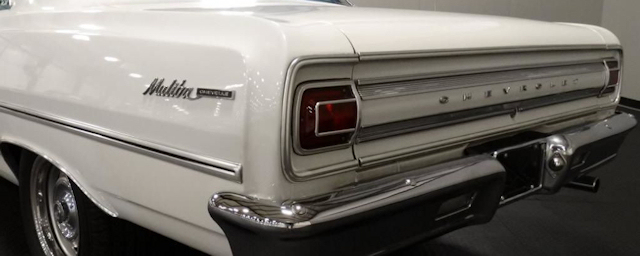 Note the Malibu rear cove is (1) not blacked out, (2) lacks Malibu SS emblem, and (3) has side trim and Malibu Chevelle emblem.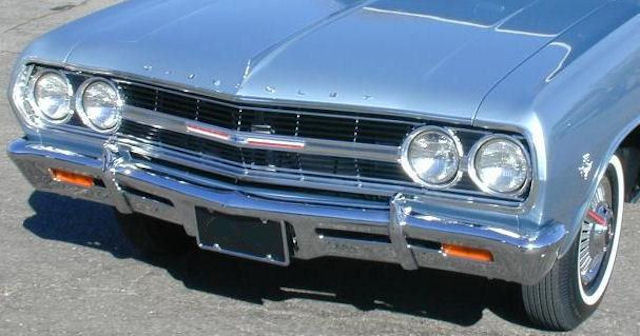 The grille and headlamp bezels of the Malibu SS were blacked-out where the other Chevelle series' was not.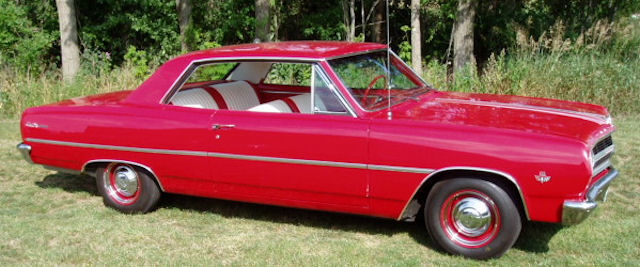 Compare the trim of a Malibu sport coupe above and a Malibu SS sport coupe below. The Malibu has a bright side molding running from just behind the front wheel well to the rear quarter panel where the Malibu SS replaces this molding with shorter trim along the lower rocker panel sill.
All Malibu SS Chevelles came standard with full wheel covers with a three bar design and an SS center cap. Simulated Wires were optional under RPO P02.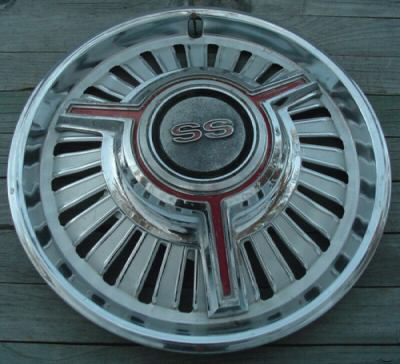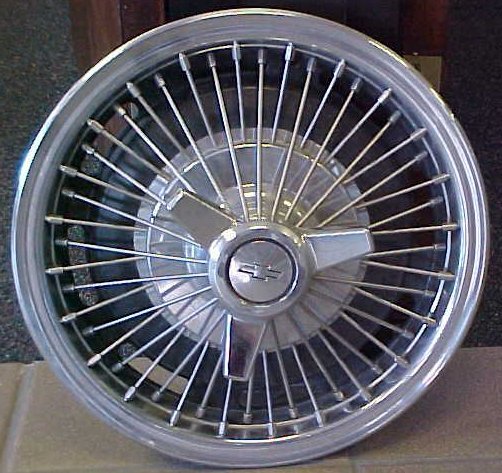 The simulated mag style wheel covers shown on the Malibu SS below were standard with RPO Z16 only and are not shown to be available as a factory option on any 1965 Chevelle.