Chevelle Body Assembly Plants
Atlanta, GA ~ Arlington, TX ~ Baltimore, MD ~ Euclid, OH ~ Flint, MI ~ Framingham, MA
Fremont, CA ~ Kansas City, MO ~ Van Nuys/Los Angeles, CA ~ Oshawa, Ontario, Canada
Chevelle
Atlanta, GA
El Camino
Atlanta, GA
Year
VIN
Trim Tag
Year
VIN
Trim Tag
1964
A
AT
n/a
n/a
n/a
1965
A
ATL
1965
A
EUC (A) **
1966-1969
A
ATL
n/a
n/a
n/a
1970
A
A
n/a
n/a
n/a
Chevelle/Monte Carlo
Arlington, TX
El Camino
Arlington, TX
Year
VIN
Trim Tag
Year
VIN
Trim Tag
1970
R
BT
n/a
n/a
n/a
1971-1972
R
R
n/a
n/a
n/a
Chevelle/Monte Carlo
Baltimore, MD
El Camino
Baltimore, MD
Year
VIN
Trim Tag
Year
VIN
Trim Tag
1964
B
BA
1964
B
EP (B) *
1965-1969
B
BAL
1965
B
EUC (B) **
1966-1969
B
BAL
1970-1972
B
B
1970-72
B
B
Chevelle
Euclid, OH
El Camino
Euclid, OH
Year
VIN
Trim Tag
Year
VIN
Trim Tag
1964
n/a
EP
1964
n/a
EP
1965
n/a
EUC
1965
n/a
EUC

1964 ~ Known to have built bodies of station wagons and convertibles for Atlanta final assembly.
1964 ~ Known to have built bodies of station wagons and El Caminos for Kansas City final assembly.
1965 ~ Known to have built bodies of El Caminos for Atlanta and Kansas City final assembly.
1965 ~ Known to have built bodies of station wagons for Baltimore final assembly.

Chevelle/Monte Carlo
Flint, MI
El Camino
Flint, MI
Year
VIN
Trim Tag
Year
VIN
Trim Tag
1966
F
FL1
n/a
n/a
n/a
1970
F
FL2
n/a
n/a
n/a
Chevelle
Framingham, MA
El Camino
Framingham, MA
Year
VIN
Trim Tag
Year
VIN
Trim Tag
1965-1968
G
FRA
n/a
n/a
n/a
1969
G
FM
n/a
n/a
n/a
Chevelle,
Fremont, CA
El Camino
Fremont, CA
Year
VIN
Trim Tag
Year
VIN
Trim Tag
1964
H
BF
1964
H
BF
1965-1969
Z
BF
1965-1969
Z
BF
Chevelle
Kansas City, MO
El Camino
Kansas City, MO
Year
VIN
Trim Tag
Year
VIN
Trim Tag
1964
K
KC
1964
K
EP (K) *
1965-1970
K
KAN
1965
K
EUC (K) **
1966-1970
K
KAN
1971-1972
K
K
1971-1972
K
K
Chevelle/Monte Carlo ***
Van Nuys/Los Angeles, CA
El Camino
Van Nuys/Los Angeles, CA
Year
VIN
Trim Tag
Year
VIN
Trim Tag
1964
L
VN
n/a
n/a
n/a
1970
L
BL
1970
L
BL
1971-1972
L
L
1971-1972
L
L
Chevelle
Oshawa, Ontario
Year
VIN
Trim Tag
1964-1967
0
OS
1968-1972
1
OS
* 1964 El Caminos assembled at the Baltimore and Kansas City plants used bodies built in Euclid, OH.
** 1965 El Caminos assembled at the Atlanta, Baltimore, and Kansas City plants used bodies built in Euclid, OH.
*** Monte Carlo after January 1970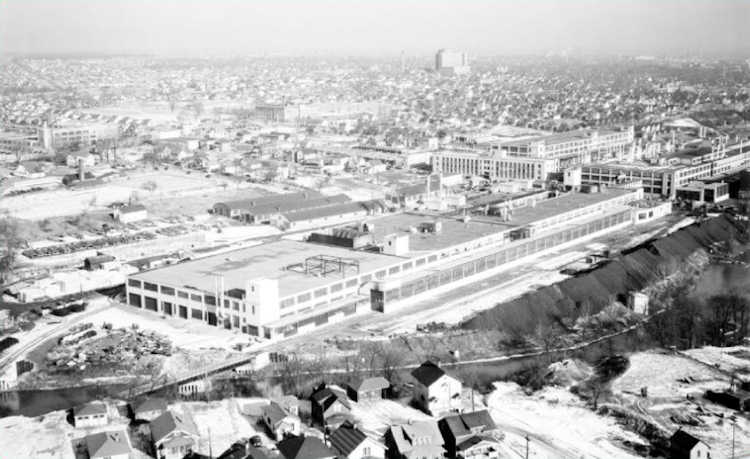 Arlington, TX.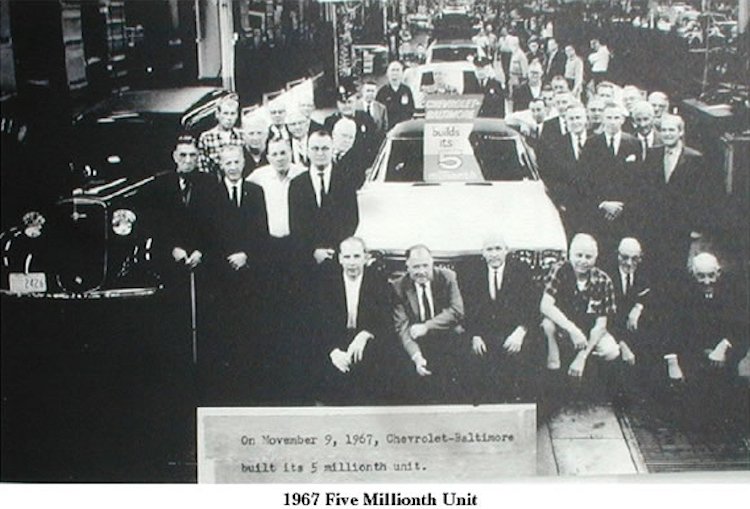 Baltimore, MD.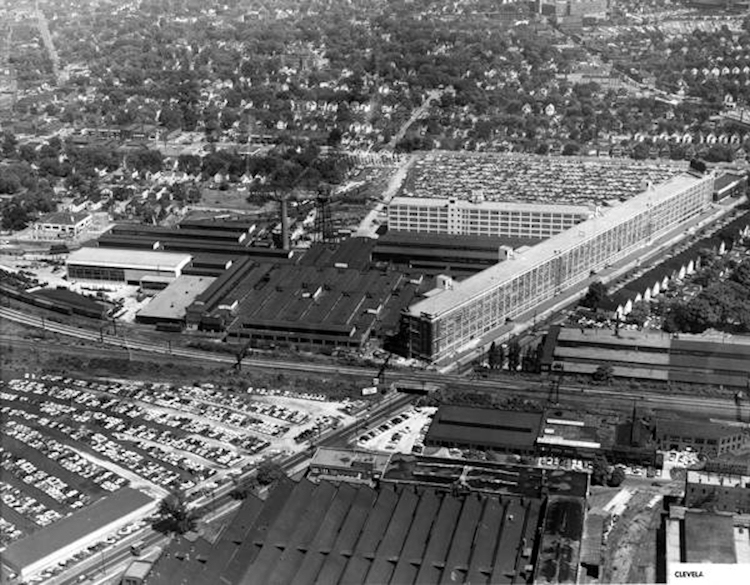 Fisher Body plant at Euclid, OH. ~ Courtesy Cleveland Press Collection, Cleveland State University Library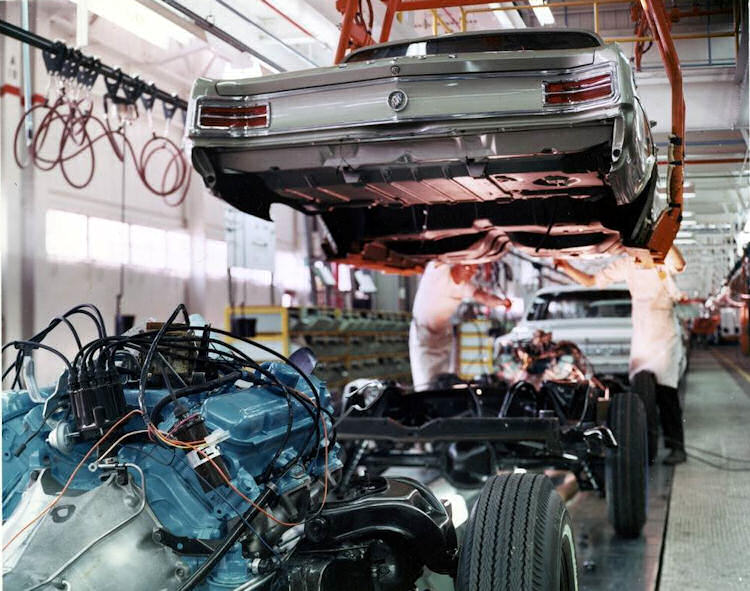 Fremont, CA ~ Note Buick (body about to be married to the chassis) and Olds (one car ahead) A-body cars were built along side Chevelles probably accounting for the relatively low production number of Chevelles at Fremont.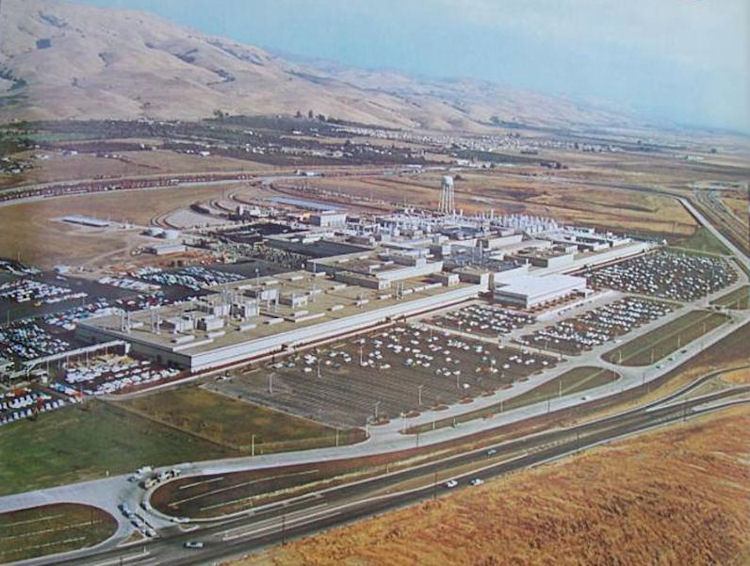 Fremont Chevelle assembly plant.
Kansas City/Leeds Assembly Plant
Originally being from the Kansas City area but having moved 30 years ago it never dawned on me to visit the old Leeds plant on my frequent trips to KC for car shows. I decided to make it a point to visit the old plant during my visit to KC in 2015 while attending the Mid-America Chevelle Club's show in September. This first photo is a Google Maps overhead of the plant site.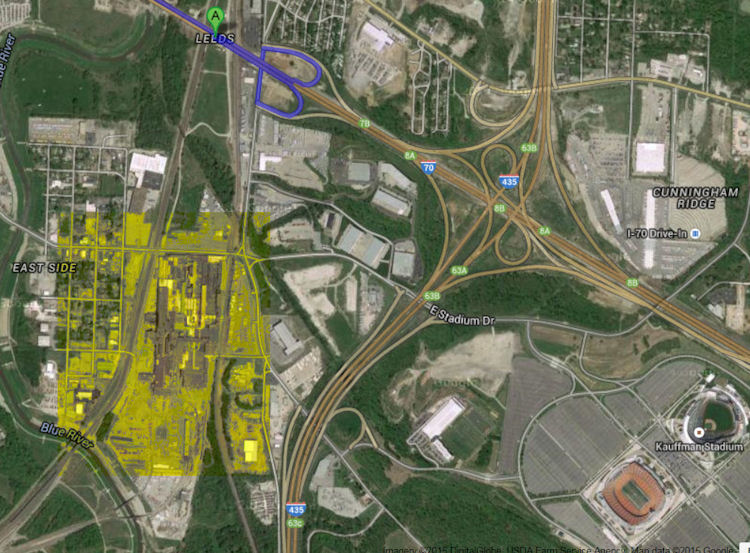 Aerial view today, north towards the top. Note the Royal's Kauffman baseball stadium and the Chiefs football stadiums to the east.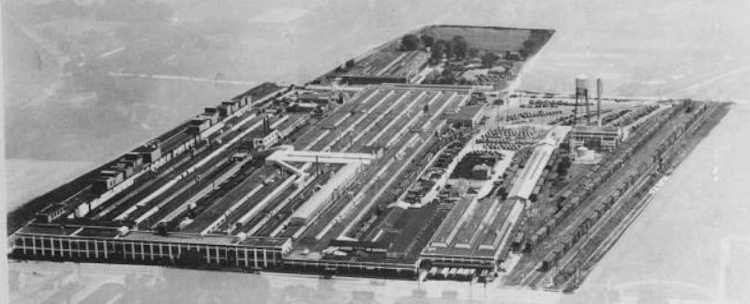 Looking south with 37th street in the foreground.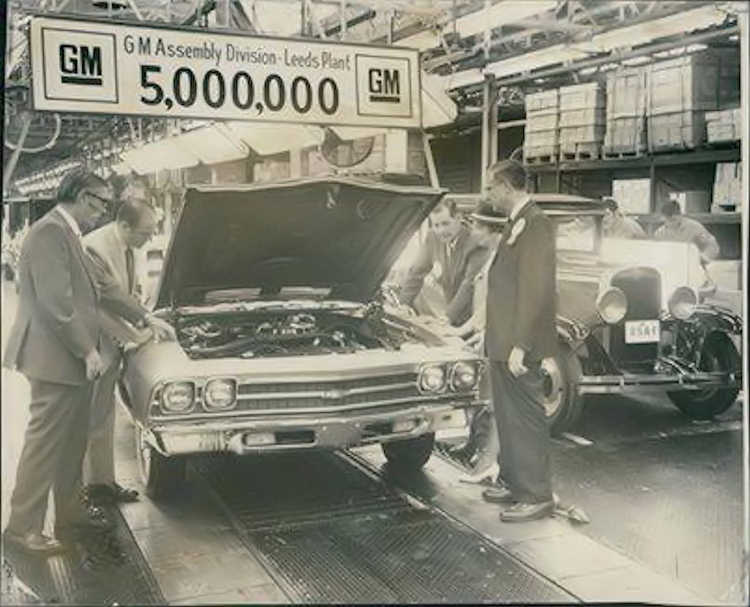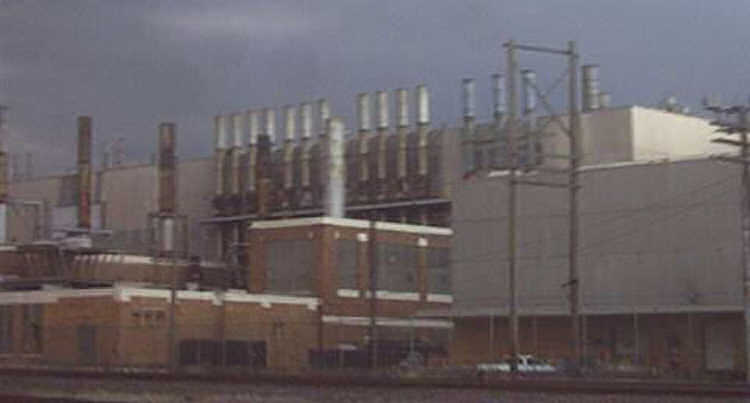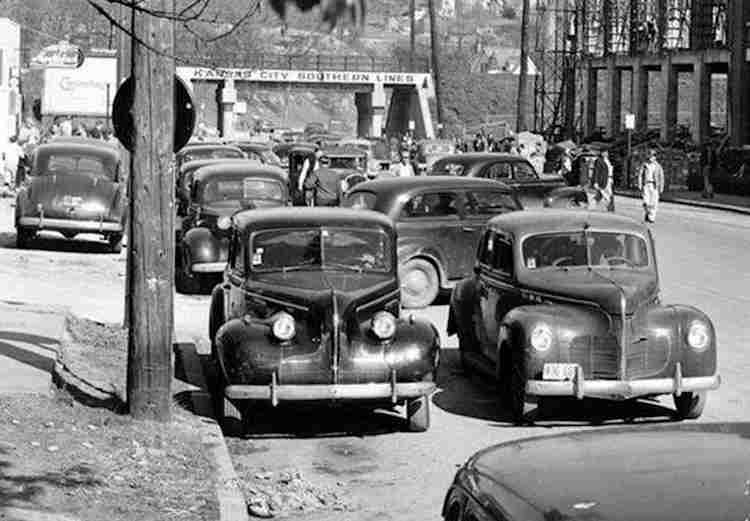 Looking east on 37th street, now Stadium Drive.
Leeds Chevelle assembly plant. Someone sent me the photos above and the immediate photo above appears to have been taken in the early to mid 40s judging by the worker's cars.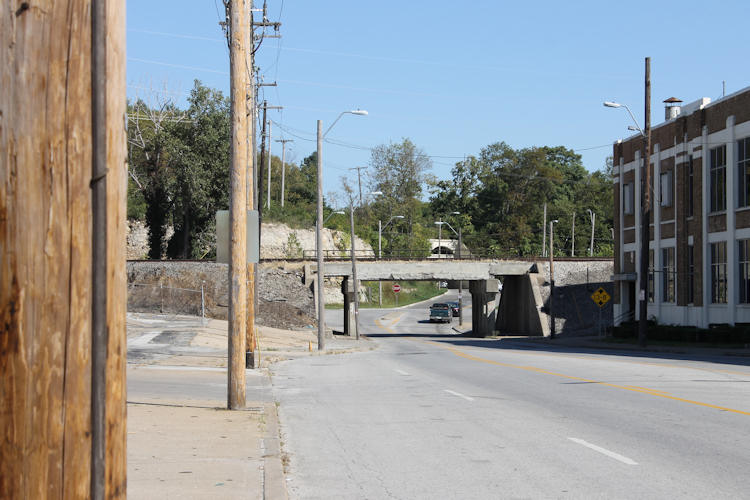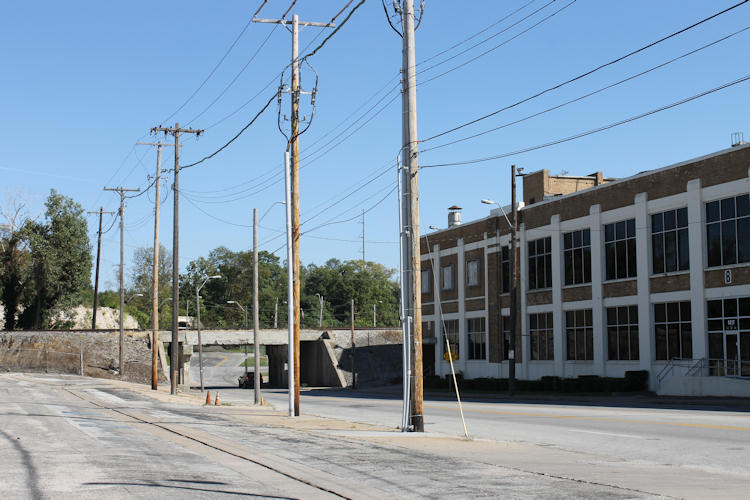 Essentially the same views looking east on Stadium Drive taken on September 26, 2015.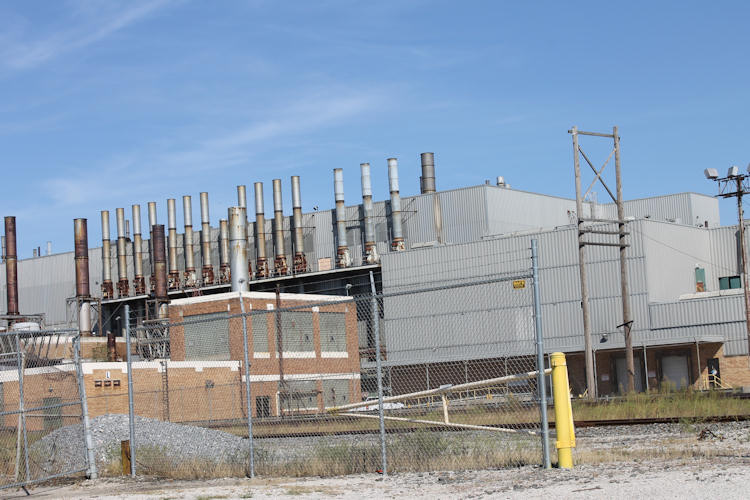 Leeds assembly plant - September 26, 2015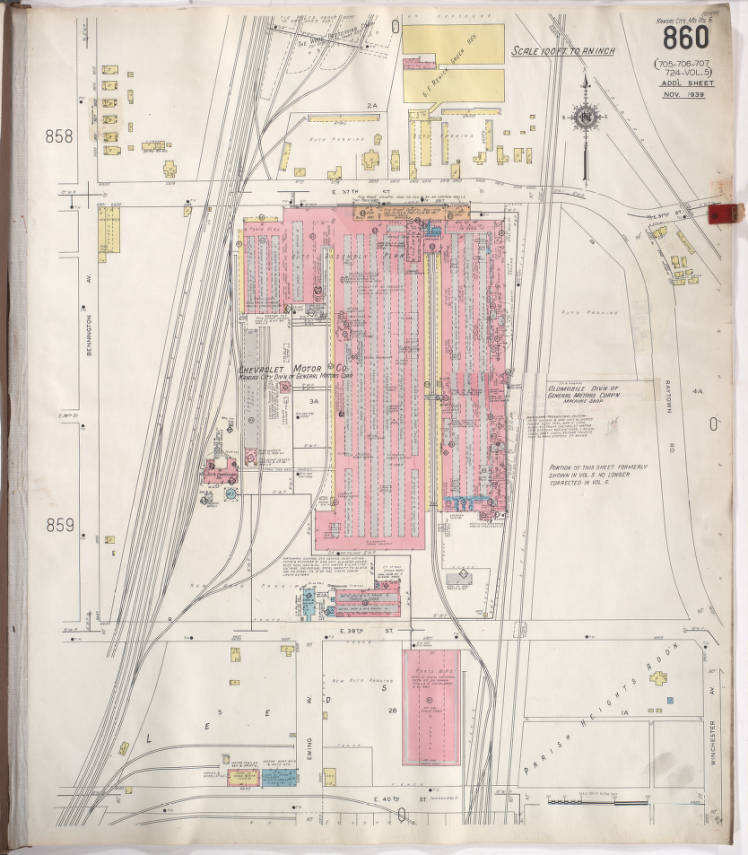 Courtesy Kansas City Library
Now owned by a private company and is partially used as a rental storage facility.
Video of the inside of the old Leeds plant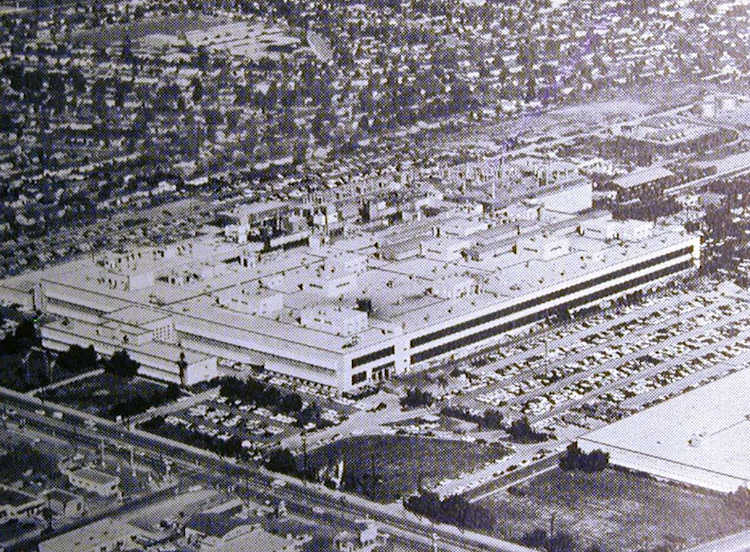 Los Angeles/Van Nuys, California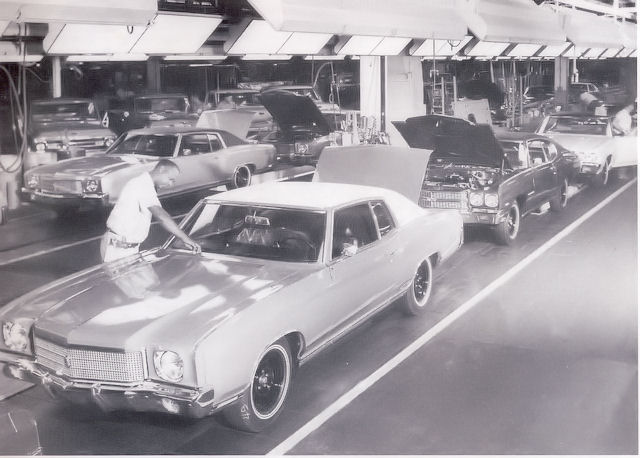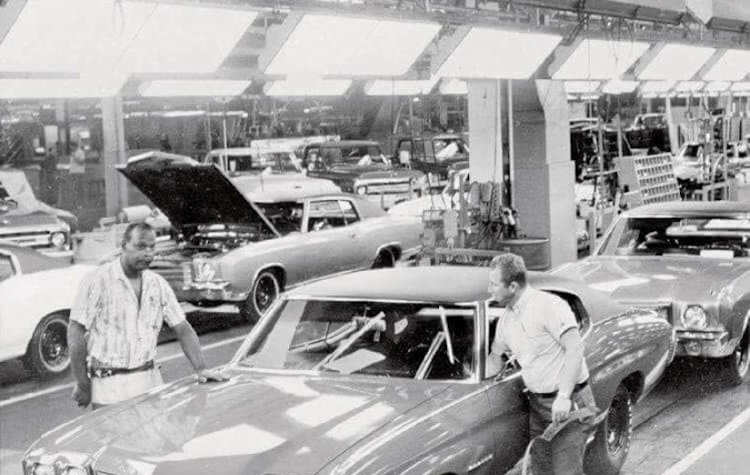 Where applicable, Monte Carlos were built along side other Chevelles.