1968 Chevelle Alternate Interiors Listing
More on these alternate interiors

Current information in Adobe .PDF format
Baltimore: Approximate sequence range 170000-210000
>> 03D 13637 with 765-980 B Oldsmobile split bench w/armrest
>> 03D 13837 with 766-178 B Buick bucket
>> 04A 13637 with 765-980 B Oldsmobile split bench w/armrest **
>> 04A 13667 with 765-158 Buick bench
>> 04A 13667 with 765-158 Buick bench
>> 04A 13837 with 766-178 B Buick bucket
>> 04A 13867 with 765-158 Buick bench
>> 04A 13867 with 765-158 Buick bench *
>> 04A 13680 with 766-223 BF Pontiac bucket
>> 04B 13837 with 766-178 Buick bucket
>> 04B 13867 with 765-158 Buick bench
>> 05A 13427 with 760-217 Pontiac bench
>> 05A 13637 with 765-118 B Buick bench
>> 05A 13837 with 766-178 B Buick bucket
>> 05B 13427 with 760-217 Pontiac bench
>> 05B 13637 with 765-118 B Buick bench
>> (Note 05B 13667 with 765- Chevelle only code - not BOP interior) ***
>> 05c 13637 with 765-980 B Oldsmobile bench **
>> 05C 13837 with 765-158 B Buick bench
>> 05C 13837 with 765-158 B Buick bench
>> 05C 13867 with 765-158 B Buick bench
>> 05C 13867 with 765-158 Buick bench
>> (Note 05C 13837 with 766 -B Chevelle only code - not BOP interior) ***
>> 06B 13637 with 765-118 B Buick bench
>> 06B 13637 with 765-118 B Buick bench
>> 06x 13637 with 765-980 Oldsmobile split bench w/armrest * (reported Concours-optioned but tag not verified)
>> 07C 13637 with 765-980 Oldsmobile split bench w/armrest * ** (reported Concours-optioned) but tag not verified)
>> 07C 13637 with 765-980 Oldsmobile split bench w/armrest * ** tag not verified
Fremont: Approximate sequence range 142000-158000
>> 03E 13637 with 766 970 Oldsmobile bucket
>> 04A 13427 with 760 910 Oldsmobile bench
>> 04A 13637 with 765 118 Buick bench
>> 04A 13637 with 765 118 Buick bench
>> 04A 13680 with 765 217 Pontiac bench
>> 04A 13639 with 765 960 Oldsmobile bench
>> 04B 13637 with 765 118 Buick bench
>> 04B 13880 with 766 223 Pontiac bucket
>> 04D 13837 with 766 178 Buick bucket
>> 04E 13637 with 765 118 Buick bench
>> 05A 13637 with 765 118 Buick bench
>> (Note 05A 13680 with 765 Chevelle code only - not BOP interior) ***
>> 05B 13837 with 766 178 Buick bucket
>> 05C 13637 with 765 168 Buick bench w/center armrest
>> 05C 13837 with 765 158 Buick bench
>> 05C 13837 with 765 158 Buick bench
>> 05C 13837 with 766 178 Buick bucket
>> 05C 13837 with 766 178 Buick bucket
>> (Note 05C 13880 with 765 Chevelle code only - not BOP interior) ***
>> 05D 13837 with 766 178 Buick bucket
Kansas City: Approximate sequence range 180000-218000
>> 03D 13427 with 760-910 Oldsmobile bench
>> 03D 13637 with 765-168 Buick bench w/center armrest **
>> 03D 13637 with 765-168 Buick bench w/center armrest **
>> 03D 13837 with 765-158 Buick bench
>> 03D 13837 with 765-158 Buick bench
>> 03D 13837 with 766-178 Buick bucket
>> 03D 13867 with 765-158 Buick bench
>> 04A 13680 with 766-223 Pontiac bucket *
>> 04A 13637 with 765-168 Buick bench w/center armrest **
>> 04A 13637 with 765-168 Buick bench w/center armrest **
>> 04A 13637 with 765-168 Buick bench w/center armrest **
>> 04A 13637 with 766-970 Oldsmobile bucket
>> 04A 13637 with 766-970 Oldsmobile bucket
>> 04A 13837 with 765-158 Buick bench
>> 04A 13837 with 766-178 Buick bucket
>> 04A 13837 with 766-178 Buick bucket
>> 04A 13837 with 766-178 Buick bucket
>> 04A 13837 with 766-178 Buick bucket
>> 04B 13480 with 760-217 Pontiac bench
>> 04B 13637 with 766-970 Oldsmobile bucket
>> 04B 13669 with 765-118 Buick bench
>> 04B 13837 with 765-158 Buick bench
>> 04C 13667 with 766-178 Buick bucket
>> 04C 13837 with 765-158 Buick bench
>> 04C 13880 with 766-223 Pontiac bucket
>> 04C 13637 with 765-168 Buick bench w/center armrest **
>> 04C 13837 with 765-158 Buick bench seat
>> 04D 13837 with 766-178 Buick bucket
>> 04D 13837 with 766-178 Buick bucket
>> 04E 13837 with 766-178 Buick bucket
>> 05A 13667 with 765-158 Buick bench
>> 05B 13427 with 760-910 Oldsmobile bench
>> 05C 13837 with 766-178 Buick bucket
>> 05C 13837 with 765-158 Buick bench
>> 05C 13837 with 766-178 Buick bucket
>> 05C 13427 with 760-910 Oldsmobile bench
>> 05D 13637 with 765-118 Buick bench
>> 05D 13837 with 765-158 Buick bench
>> 05D 13837 with 765-158 Buick bench
>> 05E 13637 with 765-168 Buick bench w/center armrest
>> 05E 13837 with 765-158 Buick bench
>> 06A 13867 with 765-158 Buick bench
>> 06B 13637 with 765-168 Buick bench w/center armrest **

* Reported but not verified with photo.
** This is a known Concours optioned Malibu sport coupe. Other 13637 Malibu sport coupes listed may be Concours optioned but no further information is available on them to confirm.
*** Note these Chevelles have standard Chevelle bench/bucket seat code 765/766 yet the alternate interiors continued for some time at their respective plants.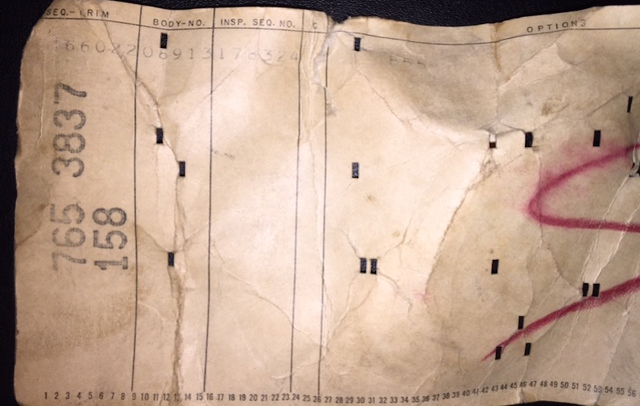 Trim sheet showing 765-158 interior trim code.