1968 Chevelle Alternate Interiors
I donít think anyone has a definitive answer as to why Buick, Oldsmobile, and/or Pontiac interiors were used in Chevelles in 1968. I know Legendary Auto Interiors, Ltd. did a piece in Chevelle World pretty much dispelling any strike theory.
Legendary's research showed that the United Auto Workers Union has no records or documentation of any strikes during the 1968 model year and that 1968 was one of the best for GM employees due to generous health and retirement benefits garnered in 1967. Research by a reader did turn up this however and I feel it may be of some interest to readers.
Legendary Interiors proposed a theory of their own in an ACES Chevelle World article Ė a possible connection with the assassination of Rev. King. They hypothesized that a riot in Memphis on March 28, 1968 during a protest march may have been the kindling and when Rev. King was killed on April 4, riots erupted across the U.S. beginning on April 5. Three cities suffered destruction and looting, Chicago, Baltimore and Kansas City. They found excerpts from 1968 mentioning GM having to "retool" due to the Baltimore riots.
They question whether the parts were manufactured at those plants (and possibly destroyed) or were interiors manufactured offsite and the riots interrupted delivery thereby forcing Chevrolet to use Buick and Oldsmobile (as well as Pontiac that Legendary did not mention) interiors to keep production going. If this was the case, why did a retooling in Baltimore affect Kansas City and Fremont as well but apparently not Atlanta or Framingham unless Baltimore was supplying the majority of Chevelle interiors and Atlanta and Framingham got theirs from another GM supplier?
Correspondence with Mr. Ridley of Legendary Interiors shows what they've found as of June 4, 2012:
766-178 Buick Bucket interior - 68
765-158 Buick Deluxe Split Bench interior - 23
765-168 Buick Deluxe Split Bench with Center Armrest interior - 3
765-118 Buick Standard Split Bench interior - 2
766-970 Oldsmobile Bucket interior - 4
765-980 Oldsmobile Split Bench w/ Center Armrest interior - 14
766-223 Pontiac Bucket interior (El Camino only) - 3
760-217 Pontiac Tempest Custom Black Pattern Imitation Leather - 1
Of the (3) 765-168 and (14) 765-980 trimmed cars I have found that all 17 are Concours models. The "Concours" option was standard on the Estate Wagon and a special order option (RPO ZJ6) on the Malibu Sport Sedan 4-door. In late March Chevrolet made this option available as a special order (RPO ZK7) on the Chevelle/Malibu Sport Coupe 2-door models. Total production was 8,307 units from late March thru mid June before it was discontinued.
Correspondence did not break down the above by plant or dates however.
Mystery Solved - update 03/14/2017 ~ Courtesy Warren Leunig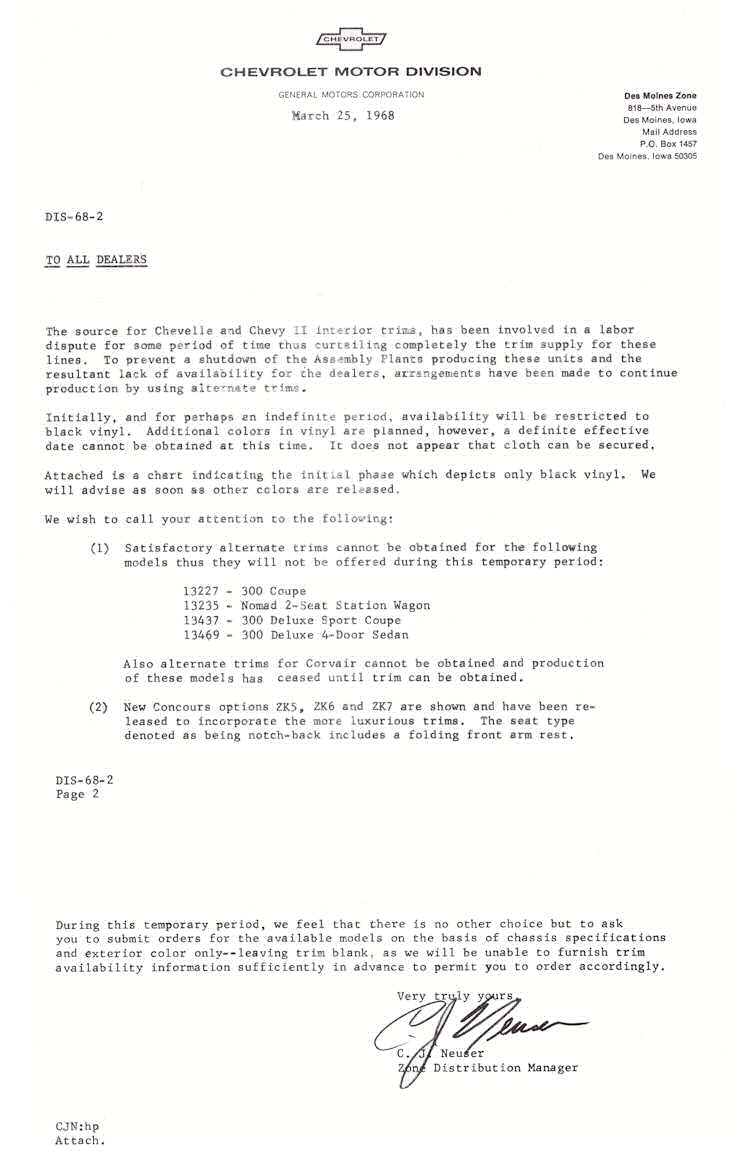 Break down the particular BOP seat per series/body style shown above:
| | | |
| --- | --- | --- |
| Model | Seat Type | BOP Code (Plant where found) |
| 13427 | bench | 760-217 (Pontiac - Baltimore) |
| 13427 | bench | 760-910 (Oldsmobile - Fremont/Kansas City) |
| 13480 | bench | 760-217 (Pontiac - Kansas City) |
| 13637 | bench | 765-980 (Oldsmobile w/armrest - Baltimore Concours) |
| 13637 | bench | 765-118 (Buick - Baltimore/Fremont/Kansas City) |
| 13637 | bench | 765-168 (Buick w/armrest - Fremont/Kansas City Concours) |
| 13637 | bucket | 766-970 (Oldsmobile - Fremont/Kansas City) |
| 13639 | bench | 765-960 (Oldsmobile) |
| 13667 | bench | 765-158 (Buick - Baltimore/Kansas City) |
| 13667 | bucket | 766-178 (Buick - Kansas City) |
| 13669 | bench | 765-118 (Buick - Kansas City) |
| 13680 | bench | 765-217 (Pontiac - Fremont) |
| 13680 | bucket | 766-223 (Pontiac - Baltimore/Kansas City |
| 13837 | bench | 765-158 (Buick - Baltimore/Fremont/Kansas City) |
| 13837 | bucket | 766-168 (Buick - Baltimore/Fremont/Kansas City) |
| 13867 | bench | 765-158 (Buick - Baltimore/Fremont/Kansas City) |
| 13880 | bucket | 766-223 (Pontiac - Fremont/Kansas City) |
It needs to be noted the list immediately above is only what I have found and in no way represents a definitive answer; for example to date no 13880 El Camino has turned up yet with a BOP bench seat. It could very well be the same 765-158 Buick code as the sport coupe and convertible but it's not verified so it's not listed.
And, just because one code was used at one or even two of the three plants doesn't mean the same code was or was not used at all plants for the same model and seat type.
Makes one wonder if Baltimore, Kansas City, and Fremont were the only plants affected? Or maybe any orders for black interior Chevelles from Atlanta or Framingham were routed to one of these 3 plants.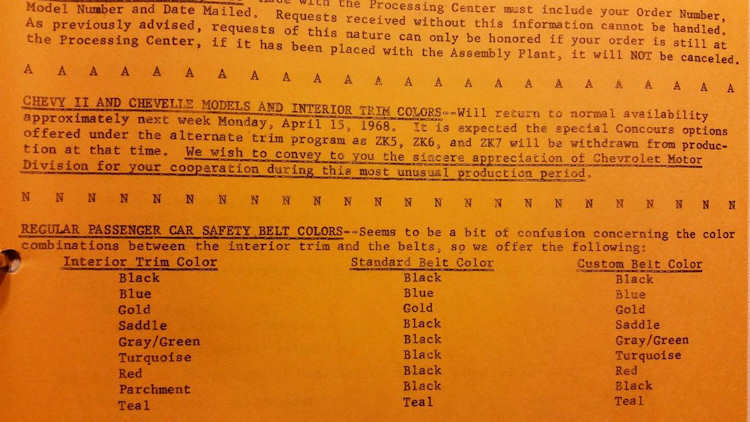 Note the bulletin says that Chevy II and Chevelle interior trim colors should return to normal around April 15 and the Concours options will be withdrawn. It's known these alternate interiors continued well into June. The three Concours options are shown to be available in March - why cancel them in April? I'd question this since production reports indicate 10,612 of the three options were sold and a known Concours Malibu sport coupe from Kansas City with body date of 06B has been found.

1968 Buick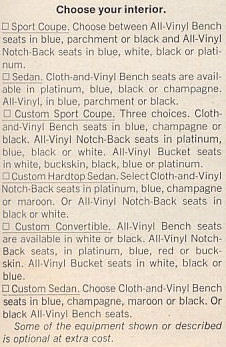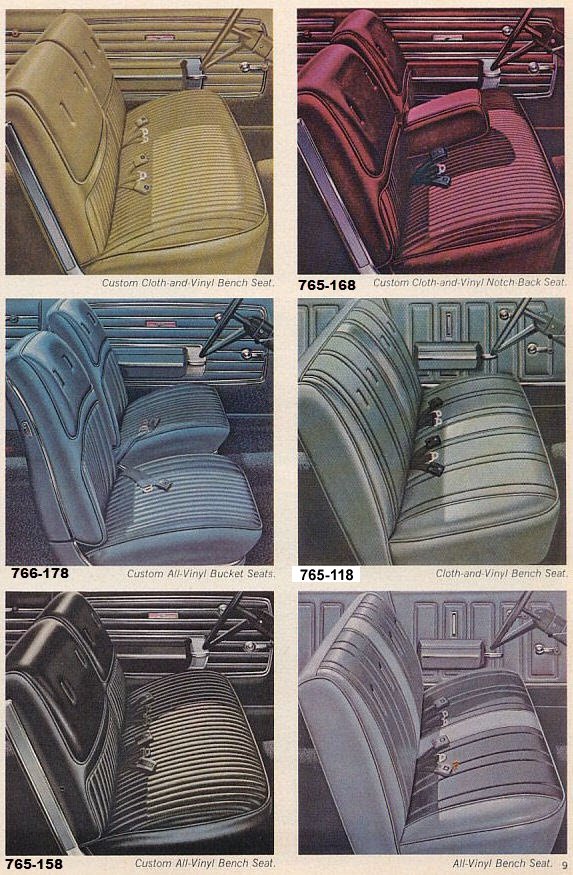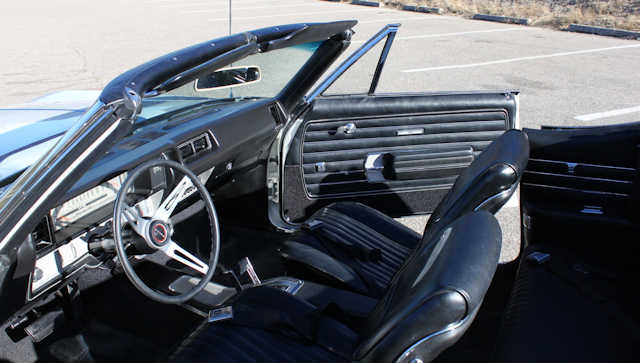 1968 Buick GS400 178 interior

1968 Pontiac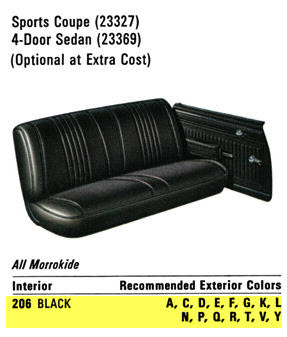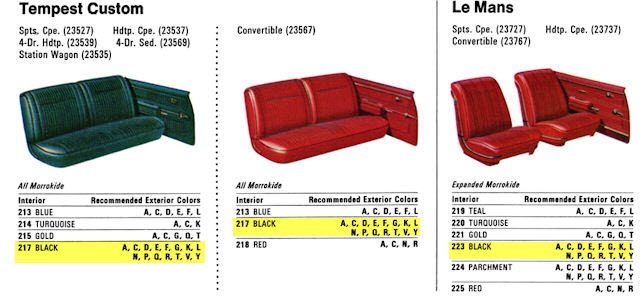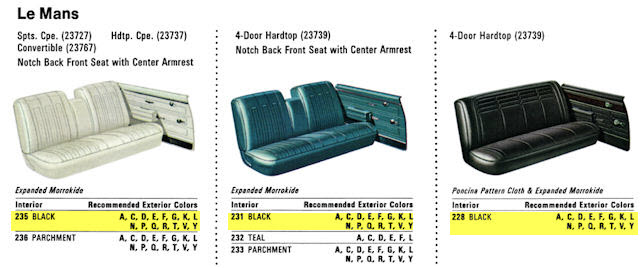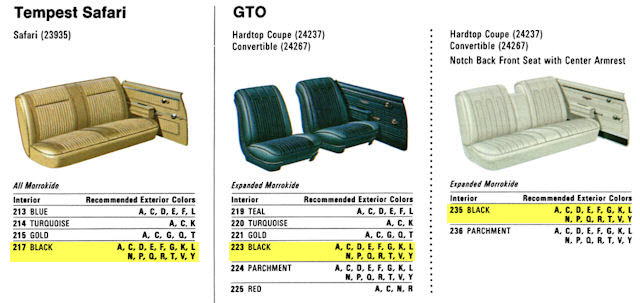 Oldsmobile
If anyone knows of any 1968 Oldsmobile charts like the Buick and Pontiac above, I'd appreciate appropriate images. Maybe the above came from a dealer's book?
From what I've been able to gather on 3 known Oldsmobile codes, 910 is found in F85 Club Coupe, 970 & 980 are found in the Cutlass S and Cutlass Supreme Club Coupe, Sport Coupe, and Convertible. Examples of which I have.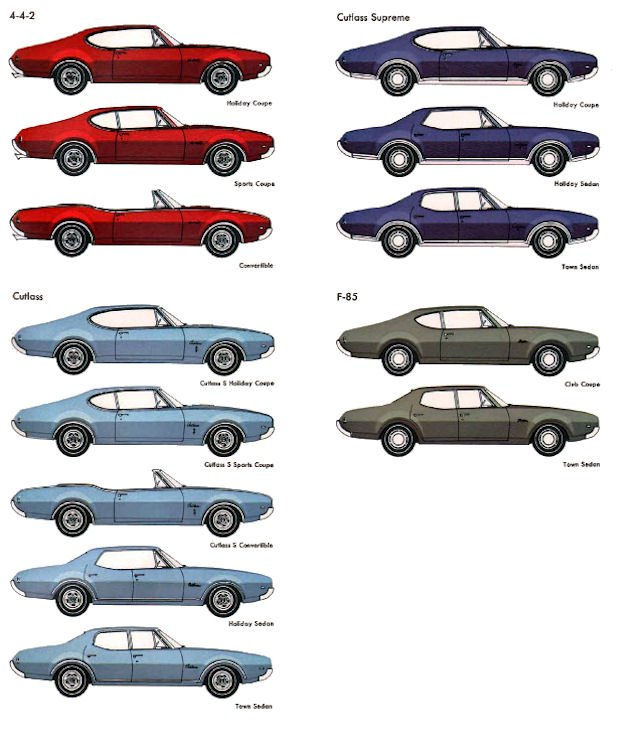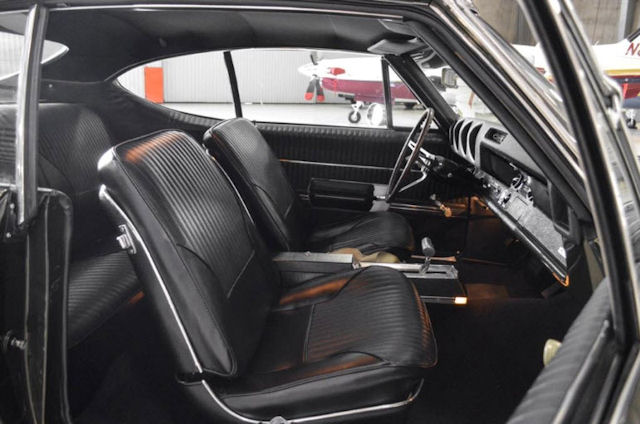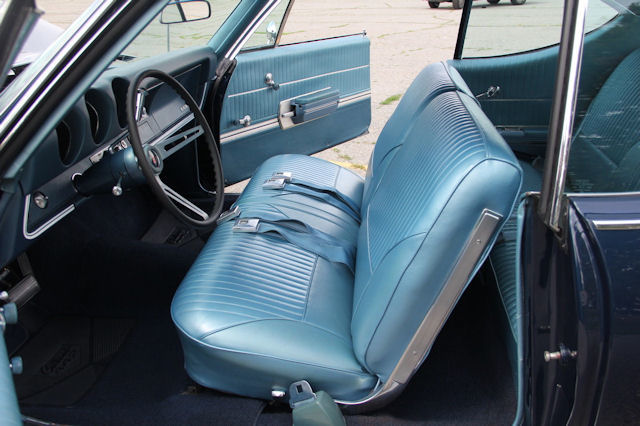 Although these are samples of the Cutlass Supreme & 442's 940-style bucket and 950-style bench, none of these have yet to turn up in a Chevelle. It's possible these were not substituted.