1966 Chevelle Production Numbers by Individual Plant
[ 1964 ] | [ 1965 ] | [ 1966 ] | [ 1967 ] | [ 1968 ] | [ 1969 ] | [ 1970 ] | [ 1971 ] | [ 1972 ]
Month
Atlanta-A
Baltimore-B
Flint-F
Framingham-G
Fremont-Z
(GMAD)
Kansas City-K
August (1965*)
n/a
n/a
n/a
n/a
n/a
n/a
September
100001-101412

09E - #104206


100001-103848
100001-100853
100001-101687
100001-101475
100001-104114
October
101413-105800
103849-112708
100854-103943
101688-106735
101476-105951
104115-115344
November
105801-110626
112709-123145
103944-107441
106736-111910

12A - #111467


105952-111304
115345-127866
December
110627-115184
123146-133029
107442-112016
111911-116955
111305-117131
127867-139728
January (1966)

01D - #119552


115185-119309
133030-141040
112017-116138
116956-120730
117132-123704
139729-150978
February
119310-126651
141041-148979
116139-120851
120731-123115
123705-129884
150979-162260
March
126652-141390
148980-157051
120852-127215
123116-125958
129885-136574
162261-175796
April
141391-155291
157052-164643
127216-132456
125959-128913
136575-142300

04D - #187543


175797-186929
May

05D - #168913


155292-168663
164644-172643
132457-138373
128914-131979
05E - #148858
05D - #149161
142301-148104

05D - #197447


186930-197387
June
168664-182751
172644-180692
138374-144544
131980-135211
148105-154174
197388-208293
July
182752-195611
180693-188331
144545-147455
135212-138111
154175-159625
208294-218051
Total
446,633(1)
95,611
21.38%
88,331
19.75%
47,455
10.61%
38,111
8.52%
59,625
13.33%
118,051
26.40%
Just for fun...Daily Production
1966
Atlanta
Baltimore
Flint
Framingham
Fremont
Kansas City
* It's not known for certain which (if any) plants began 1966 production in August as was normally the case in this era. There is evidence of very late (August, 3rd week) 1965 models still being built at Baltimore. Only one August dated 1966 body plate has been found to date (see plate below) and the body number listed is very much out of sync with similar body numbers for the particular style.
It's also not known at this time how many Chevelles (or specific models) were built in Oshawa so the percentage figures shown may not be 100% accurate for the 6 U.S. plants. The total production figures for Chevelles did include Oshawa but no breakdown of Oshawa vs. U.S. are given.
Canadian Classic Chevelles reports there were 20,112 1966 Chevelles assembled in Canada.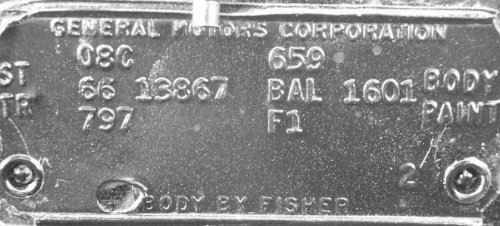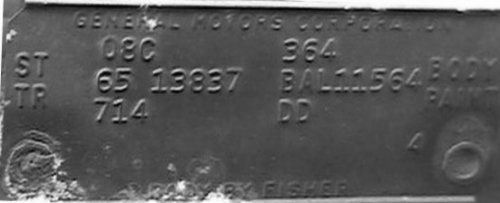 Note this 1965 Baltimore plate is also body dated August 3rd week. The sequence number of this particular car is at the end of the 1965 production year for Baltimore making it very unlikely the 66 SS396 tag above is real.
(1) Chevrolet's published U.S. production figure for the 1966 model year are 447,364 units. Subtracting the total of last reported VINs of each plant (446,633) from the published figure leaves 731 U.S. built Chevelles unaccounted for.
Chevrolet's Accumulative Production Report puts the Canadian production total at 23,688 while Canadian Classic Chevelles & Beaumonts reports 20,112.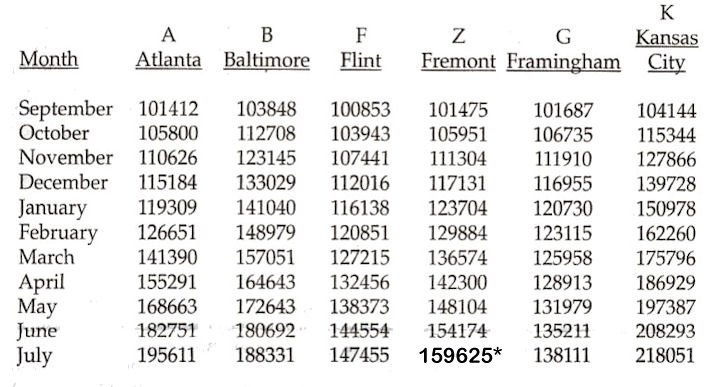 * Revised Fremont production as per "Notice of Production Change" letter dated 8-23-66.
Caveats and Disclaimers:

The numbers shown are reported last VINs from each plant per month. The numbers above those in red are instances of matching VIN and Fisher Body plates to show VINs/body dates outside the published numbers. The Fisher Body Number plate build week not match the calendar week; meaning an example body date of 04A may not be the first physical or even calendar week of April. Productions are scheduled well in advance of actual build date and given it takes 3 to 4 days to physically build the car once it is scheduled, you can see where the body date will not always match up with the VIN sequence. Obviously the body plates, and the associated information, are stamped when the cars are scheduled, not as they roll by a particular station. Cars with 04A body dates may run into week 04B of production. GM wouldn't just toss out the existing body number plates with 04A just because the car didn't physically get completed until the following week.
In reality, don't place too much emphasis on the body date as opposed to the last reported VIN for a given month. The anomalies shown are shown for that very reason. It does happen and that should not be a basis for worry that your car may have had the body plate (trim tag) and/or VIN altered.
If you have trim tags/VINs plates with dates and sequence numbers that don't fall into the range of those shown below, please email me the trim tag and sequence number and I'll post the oddity. Email it to me via my contact page.
---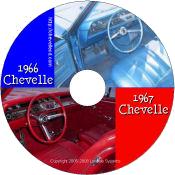 Want more in-depth information on 1966/1967 Chevelles? Take a test drive of my 1966/1967 Chevelle Reference CD.