1970 Radiators Chart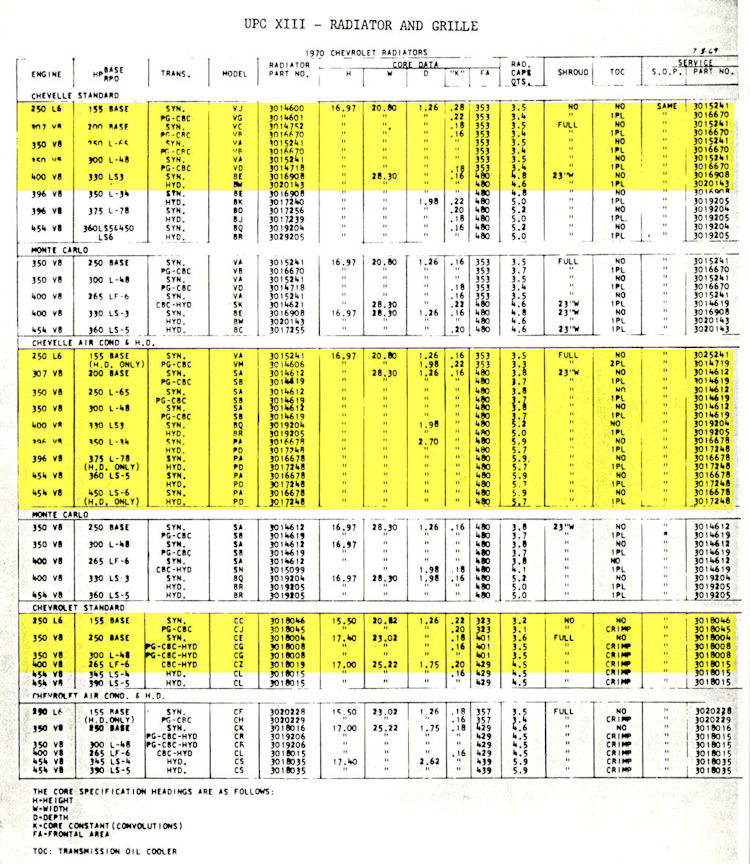 Click for larger image...
For those only interested in Part Number, application, and model number (broadcast code). Monte Carlo not listed below and L34/L78/LS5 not listed for Chevelle Standard since those engines were not available. No listings for LS6 but those model numbers (broadcast codes) are included here based on build sheet information.
Engine
Horsepower/RPO
Trans
Model
Part #
Service #
CHEVELLE STANDARD (NON-AIR COND AND NON H.D.)
250 L6
155/BASE
SYN.
PG-CBC
VJ
VG
3014600
3014601
3015241
3016670
307 V8
200/BASE
SYN.
PG-CBC
VC
VR
3014752
3016670
3015241
3016670
350 V8
250/L65
SYN.
PG-CBC
VA
VB
3015241
3016670
3015241
3016670
350 V8
300/L48
SYN.
PG-CBC
VA
VD
3015241
3014718
3015241
3016670
400 V8
330/LS3
SYN.
HYD.
BE
BW
3016908
3020143
3016908
3020143
CHEVELLE AIR COND & H.D.
250 L6
155/BASE
(H.D. ONLY)
SYN.
PG-CBC
VA
VM
3015241
3014606
3025241
3014719
307 V8
200/BASE
SYN.
PG-CBC
SA
SB
3014612
3014619
3014612
2014619
350 V8
250/L65
SYN.
PG-CBC
SA
SB
3014612
3014619
3014612
3014619
350 V8
300/L48
SYN.
PG-CBC
SA
SB
3014612
3014619
3014612
3014619
400 V8
330/LS3
SYN.
HYD.
BQ
BR
3019204
3019205
3019204
3019205
396 V8
350/L34
SYN.
HYD.
PA
PD
3016678
3017248
3016678
3017248
396 V8
375/L78
(H.D. ONLY)
SYN.
HYD.
PA
PD
3016678
3017248
3016678
3017248
454 V8
360/LS5
SYN.
HYD.
PA
PD
3016678
3017248
3016678
3017248
454 V8
450/LS6
SYN.
HYD.
PA
PD
3016678
3017248
3016678
3017248