1969 El Camino Protect-O-Plate Warranty Card
I have more examples but only list a few examples on this page. If you request help with yours, contact me and I'll be glad to answer any questions you have. Include a photo of the Protect-O-Plate as plants often deviate during the model year.
Note: GM offers 2 explanations on decoding the VIN. Using the common 13680 as an example:
1. When describing the VIN plate: 1 ~ Chevrolet Division, 36 ~ Malibu V8, 80 ~ 2-door sedan pickup
...and...
2. When describing the POP: 13 ~ Chevelle, even number (4 or 6) is a V8 - odd number (3 or 5) is a L6, 80 ~ 2-door sedan pickup. The engine designations of 4 or 6 for a V8 engine, and 3 or 5 for a L6 engine was determined by the series.
A V8 300 Deluxe would be 4 and Malibu would be 6.
A L6 300 Deluxe would be 3 and Malibu would be 5.
Baltimore, Maryland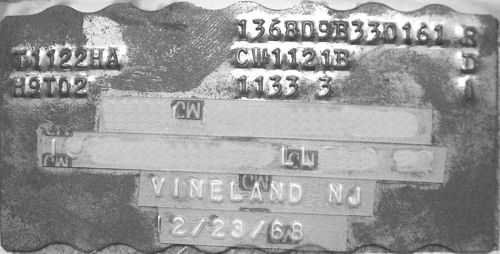 Courtesy Warren Leunig
1st line:
136809B330161 ~ VIN
13680 ~ Chevelle (13), Malibu V8 (6), 2-door sedan pickup (80)
9 ~ Model Year of Production: 1969
B ~ Final Assembly Plant: Baltimore, MD.
330161 ~ Sequence Assembly Number, 30,161st Chevelle at Baltimore
R ~ Carburetor Source: Rochester
2nd line:
T1122HA ~ Engine Plant: Tonawanda Engine Plant, November 22 (1122), L48 350-4/300hp w/manual (HA)
CW1121B ~ Rear Axle Number: 3.31:1 ratio (CW), November 21 (1121), Buffalo (B)
D ~ Vehicle Build Month: December
3rd line:
H9T02 ~ Transmission Number: Heavy Duty 3-speed (H), Year (69) December 2 (T02)
Options

1
1
3
3
3
G
H
I
J
K
L
M
G-1 ~ Power Steering [RPO N40]
H-1 ~ Power Brakes [RPO J50]
I-3 ~ Radio
J-3 ~ Disc Brakes [RPO J52]
L-3 ~ Power Windows [RPO A31]
Owner/dealer info: Original owner's name/address removed for obvious privacy reasons
---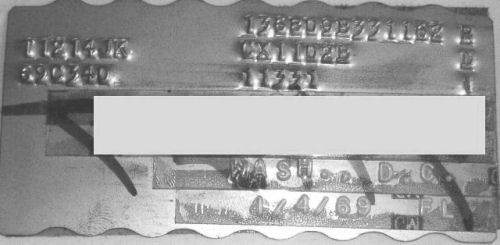 Courtesy Peter Culberg
1st line:
136809B331162 ~ VIN
13680 ~ Chevelle (13), Malibu V8 (6), 2-door sedan pickup (80)
9 ~ Model Year of Production: 1969
B ~ Final Assembly Plant: Baltimore, MD.
331162 ~ Sequence Assembly Number, 31,162nd Chevelle at Baltimore
R ~ Carburetor Source: Rochester
2nd line:
T1214JK ~ Engine Plant: Tonawanda Engine Plant, December 14 (1214), L35 396/325hp w/TH400 (JK)
CX1102B ~ Rear Axle Number: 3.07:1 ratio (CX), November 02 (1102), Buffalo (B)
D ~ Vehicle Build Month: December
3rd line:
69C340 ~ Transmission Number: Year (69). Turbo Hydra-Matic 400 engine code 396/325hp (C), build date starts with January 1, 1968; 340 is December 6 (1968)
Options

1
1
3
3
1
G
H
I
J
K
L
M
G-1 ~ Power Steering [RPO N40]
H-1 ~ Power Brakes [RPO J50]
I-3 ~ Radio
J-3 ~ Disc Brakes [RPO J52]
K-1 ~ Air Conditioning [RPO C60]
Owner/dealer info: Original owner's name/address removed for obvious privacy reasons
Fremont, California
Kansas City, Missouri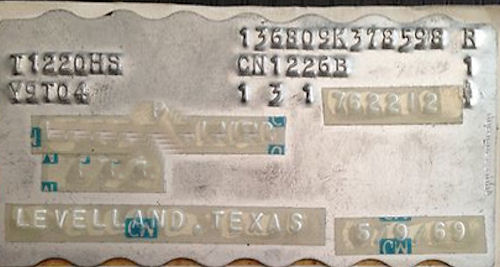 1st line:
136809K378598 ~ VIN
13680 ~ Chevelle (13), Malibu V8 (6), 2-door sedan pickup (80)
9 ~ Model Year of Production: 1969
K ~ Final Assembly Plant: Kansas City, MO
378598 ~ Sequence Assembly Number, 78,598th Chevelle at Kansas City
R ~ Carburetor Source: Rochester
2nd line:
T1220HS ~ Engine Plant: Tonawanda Engine Plant, December 20 (1220), LM1 350/255hp w/TH350 (HS)
CN1226B ~ Rear Axle Number: 2.56 ratio (CN), December 26 (1226), Buffalo (B)
1 ~ Vehicle Build Month: January
3rd line:
Y9T04 ~ Transmission Number: Toledo TH350 (Y), Year (9), December 4 (T04)
Options

1
3
1
G
H
I
J
K
L
M
G-1 ~ Power Steering [RPO N40]
I-3 ~ Radio
K-1 ~ Air Conditioning [RPO C60]
Owner/dealer info: Original owner's name/address removed for obvious privacy reasons