1969 Chevelle Body Number Plates ~ Atlanta, GA. (ATL)
[ 1964 ] | [ 1965 ] | [ 1966 ] | [ 1967 ] | [ 1968 ] | [ 1969 ] | [ 1970 ]
It is known that in 1969 Atlanta coded all trim tag style numbers with an even 3rd digit so the Fisher Body Style number is not a valid resource to tell if the car was a V8 or L6. The units sold number represents a V8 unless otherwise noted.
The Atlanta assembly plant did not build station wagons, convertibles, or 4-door sport sedans in 1969.
There are no additional data processing tracking codes.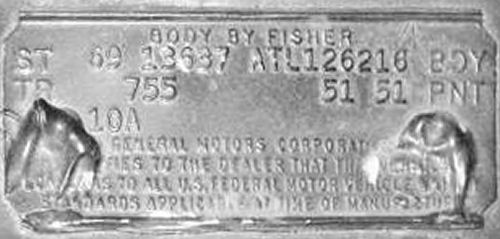 Courtesy Brent Scrogman
ST 69 13637 ~ 1969 Malibu Sport Coupe
ATL ~ Body Assembly ~ Atlanta, Georgia
126216 BDY ~ Fisher Body data processing number
TR 755 ~ Black Coated Fabric (bench seat)
51 51 PNT ~ Dusk Blue (lower-upper)
10A ~ Body Date - October 1st week (1968)
---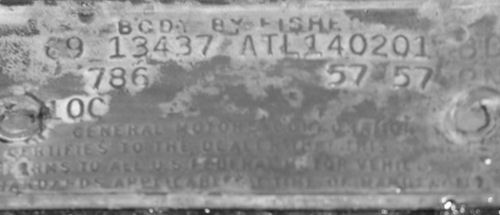 ST 69 13437 ~ 1969 Malibu Sport Coupe
ATL ~ Body Assembly ~ Atlanta, Georgia
140201 BDY ~ Fisher Body data processing number
TR 786 ~ Medium Green Ransom Cloth, Coated Fabric (bench seat)
57 57 PNT ~ Fathom Green (lower-upper)
10C ~ Body Date - October 3rd week (1968)
---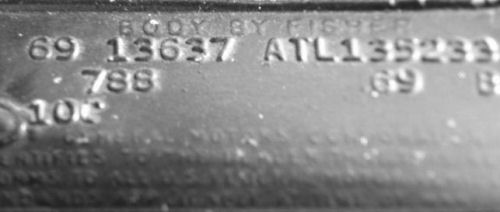 ST 69 13637 ~ 1969 Malibu Sport Coupe
ATL ~ Body Assembly ~ Atlanta, Georgia
135233 BDY ~ Fisher Body data processing number
TR 788 ~ Medium Red Coated Fabric (bucket seat)
69 B PNT ~ Cortez Silver, black vinyl top (lower-upper)
10C ~ Body Date - October 3rd week (1968)
---

1 ~ Believed to be the body assembly platform number
ST 69 13637 ~ 1969 Malibu Sport Coupe
ATL ~ Body Assembly ~ Atlanta, Georgia
143240 BDY ~ Fisher Body data processing number
TR 755 ~ Black Coated Fabric (bench seat)
50 B PNT ~ Dover White, black vinyl top (lower-upper)
10D ~ Body Date - October 4th week (1968)
---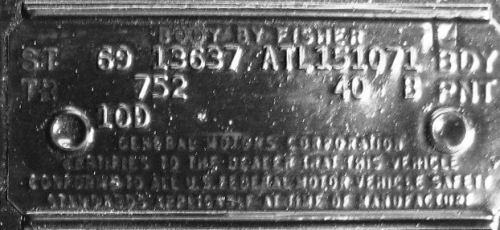 14 ~ Believed to be the body assembly platform number
ST 69 13637 ~ 1969 Malibu Sport Coupe
ATL ~ Body Assembly ~ Atlanta, Georgia
151071 BDY ~ Fisher Body data processing number
TR 752 ~Black Pattern Coated Fabric (bench seat)
40 B PNT ~ Butternut Yellow, black vinyl top (lower-upper)
10D ~ Body Date - October 4th week (1968)
---

15 ~ Believed to be the body assembly platform number
ST 69 13637 ~ 1969 Malibu Sport Coupe
ATL ~ Body Assembly ~ Atlanta, Georgia
144626 BDY ~ Fisher Body data processing number
TR 755 ~ Black Coated Fabric (bench seat)
65 E PNT ~ Olympic Gold, parchment vinyl top (lower-upper)
11A ~ Body Date - November 1st week (1968)
---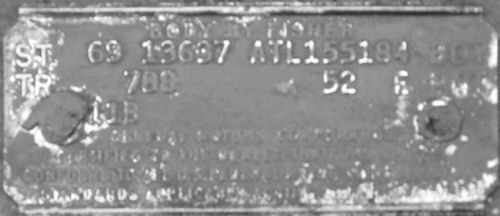 ST 69 13637 ~ 1969 Malibu Sport Coupe
ATL ~ Body Assembly ~ Atlanta, Georgia
155184 BDY ~ Fisher Body data processing number
TR 788 ~ Medium Red Coated Fabric (bucket seat)
52 E PNT ~ Garnett Red, parchment vinyl top (lower-upper)
11B ~ Body Date - November 2nd week (1968)
---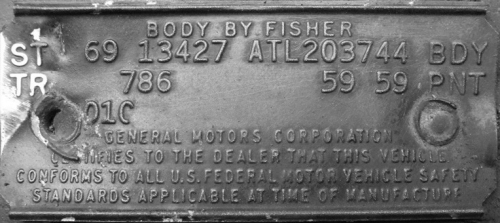 Courtesy RixLS6
1 ~ Believed to be the body assembly platform number
ST 69 13427 ~ 1969 300 Deluxe Coupe (reported 6-cyl car)
ATL ~ Body Assembly ~ Atlanta, Georgia
203744 BDY ~ Fisher Body data processing number
TR 786 ~ Medium Green Ransom Cloth, Coated Fabric (bench seat)
59 59 PNT ~ Frost Lime (lower-upper)
01C ~ Body Date - January 3rd week
---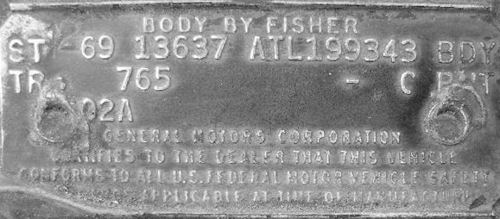 ST 69 13637 ~ 1969 Malibu Sport Coupe
ATL ~ Body Assembly ~ Atlanta, Georgia
1993439 BDY ~ Fisher Body data processing number
TR 765 ~ Metallic Dark Blue Coated Fabric (bucket seat)
- C PNT ~ Special paint, dark blue vinyl top (lower-upper)
02A ~ Body Date - February 1st week
---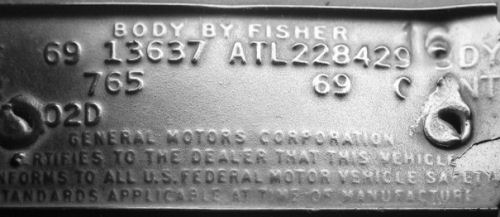 Courtesy Bruce Marx
16 ~ Believed to be the body assembly platform number
ST 69 13637 ~ 1969 Malibu Sport Coupe
ATL ~ Body Assembly ~ Atlanta, Georgia
228429 BDY ~ Fisher Body data processing number
TR 765 ~ Metallic Dark Blue Coated Fabric (bucket seat)
69 C PNT ~ Cortez Silver, dark blue vinyl top (lower-upper)
02D ~ Body Date - February 2nd week
---

2 ~ Believed to be the body assembly platform number
ST 69 13637 ~ 1969 Malibu Sport Coupe
ATL ~ Body Assembly ~ Atlanta, Georgia
230441 BDY ~ Fisher Body data processing number
TR 756 ~ Black Coated Fabric (bucket seat)
52 B PNT ~ Garnet Red, black vinyl top (lower-upper)
02D ~ Body Date - February 2nd week
---

Courtesy Don Lightfoot
2 ~ Believed to be the body assembly platform number
ST 69 13427 ~ 1969 300 Deluxe Coupe
ATL ~ Body Assembly ~ Atlanta, Georgia
230186 BDY ~ Fisher Body data processing number
TR 752 ~ Black Pattern Coated Fabric/Coated Fabric (bench seat)
71 71 PNT ~ LeMans Blue (lower-upper)
03B ~ Body Date - March 2nd week
(Sequence #333264)
---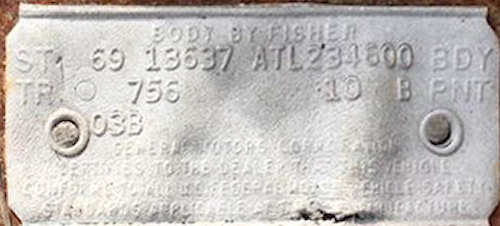 16 ~ Believed to be the body assembly platform number
ST 69 13367 ~ 1969 Malibu Sport Coupe
ATL ~ Body Assembly ~ Atlanta, Georgia
234600 BDY ~ Fisher Body data processing number
TR 756 ~ Black Coated Fabric (bucket seat)
10 B PNT ~ Tuxedo Black, black vinyl top (lower-upper)
03B ~ Body Date - March 2nd week
---

Note: This is a 6-cylinder car with VIN of 133279Axxxxxx
ST 69 13427 ~ 1969 300 Deluxe Coupe
ATL ~ Body Assembly ~ Atlanta, Georgia
231267 BDY ~ Fisher Body data processing number
TR 760 ~ Med. Blue Ransom Cloth/Coated Fabric (bench seat)
53 53 PNT ~ Glacier Blue (lower-upper)
03C ~ Body Date - March 3rd week
---

Courtesy Tom Ditter
ST 69 13637 ~ 1969 Malibu Sport Coupe
ATL ~ Body Assembly ~ Atlanta, Georgia
248566 BDY ~ Fisher Body data processing number
TR 755 ~ Black Coated Fabric (bench seat)
53 51 PNT ~ Glacier Blue, Dusk Blue (lower-upper)
03D ~ Body Date - March 4th week
---

ST 69 13277 ~ 1969 300 Deluxe Coupe
ATL ~ Body Assembly ~ Atlanta, Georgia
254128 BDY ~ Fisher Body data processing number
TR 752 ~ Black Pattern Coated Fabric (bench seat)
61 63 PNT ~ Burnished Brown, Champagne (lower-upper)
04B ~ Body Date - April 3rd week
(Sequence #341438)
---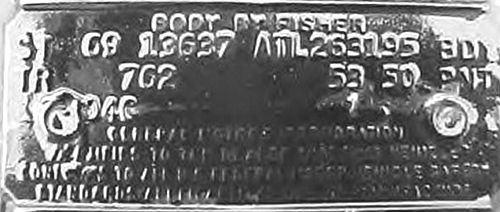 ST 69 13637 ~ 1969 Malibu Sport Coupe
ATL ~ Body Assembly ~ Atlanta, Georgia
263195 BDY ~ Fisher Body data processing number
TR 762 ~ Dk. Blue Rior-Richmond Cloth (bench seat)
58 50 PNT ~ Glacier Blue, Dover White (lower-upper)
04C ~ Body Date - April 3rd week
---

14 ~ Believed to be the body assembly platform number
ST 69 13637 ~ 1969 Malibu Sport Coupe
ATL ~ Body Assembly ~ Atlanta, Georgia
253377 BDY ~ Fisher Body data processing number
TR 788 ~ Med. Red Coated Fabric (bucket seat)
52 B PNT ~ Garnett Red, Black Vinyl Top (lower-upper)
04C ~ Body Date - April 3rd week
(Sequence #343166)
---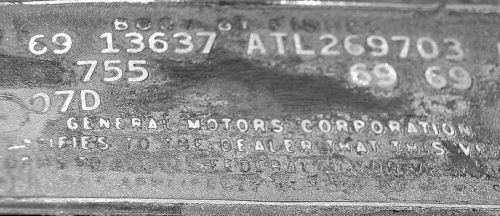 ST 69 13637 ~ 1969 Malibu Sport Coupe
ATL ~ Body Assembly ~ Atlanta, Georgia
269703 BDY ~ Fisher Body data processing number
TR 755 ~ Black Coated Fabric (bench seat)
69 69 PNT ~ Cortez Silver (lower-upper)
07D ~ Body Date - July 4th week
---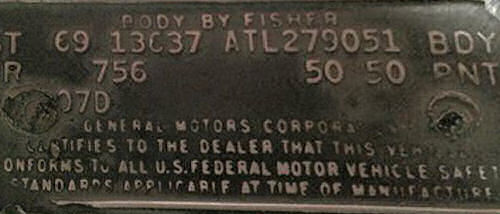 ST 69 13637 ~ 1969 Malibu Sport Coupe
ATL ~ Body Assembly ~ Atlanta, Georgia
279051 BDY ~ Fisher Body data processing number
TR 756 ~ Black Coated Fabric (bucket seat)
50 50 PNT ~ Dover White (lower-upper)
07D ~ Body Date - July 4th week
---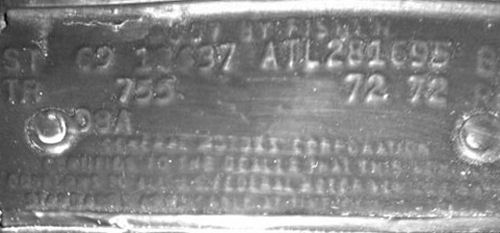 ST 69 13637 ~ 1969 Malibu Sport Coupe
ATL ~ Body Assembly ~ Atlanta, Georgia
281695 BDY ~ Fisher Body data processing number
TR 755 ~ Black Coated Fabric (bench seat)
72 72 PNT ~ Monaco/Hugger Orange (lower-upper)
08A ~ Body Date - August 1st week (1969)
---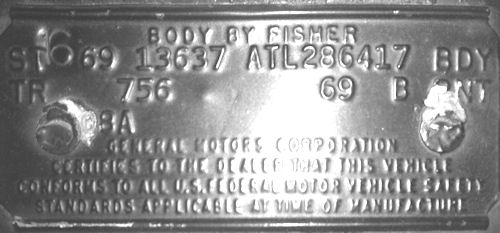 ST 69 13637 ~ 1969 Malibu Sport Coupe
ATL ~ Body Assembly ~ Atlanta, Georgia
286417 BDY ~ Fisher Body data processing number
TR 756 ~ Black Coated Fabric (bucket seat)
69 B PNT ~ Cortez Silver, black vinyl top (lower-upper)
08A ~ Body Date - August 1st week (1969)
---

Courtesy Scott Jackson
14 ~ Believed to be the body assembly platform number
ST 69 13637 ~ 1969 Malibu Sport Coupe
ATL ~ Body Assembly ~ Atlanta, Georgia
282716 BDY ~ Fisher Body data processing number
TR 755 ~ Black Coated Fabric (bench seat)
40 40 PNT ~ Butternut Yellow (lower-upper)
08C ~ Body Date - August 3rd week
See Trim Broadcast Sheet for this car
(Sequence #353686)