1966 Chevelle Interior - Click Link for Picture
[ 1964 ] | [ 1965 ] | [ 1966 ] | [ 1967 ] | [ 1968 ] | [ 1969 ] | [ 1970 ] | [ 1971 ] | [ 1972 ]
Disclaimer: Interior configurations may not be correct. Example photos are for seat type/color/material only. Due to lighting conditions, manner of photography, available aftermarket suppliers, etc. some colors may appear lighter or darker than they really are.
1966 Chevrolet Trim Combination Chart
Bench Seat ~ (model availability) - [Qty]
Bucket Seat ~ (model availability) - [Qty]
704 ~ Med. Fawn Raeburn Cloth, Imitation Leather
(13211-69) - [9,423]
711 ~ Med. Fawn, Lt. Fawn Imitation Leather
(13680) - [535]
706 ~ Med. Fawn Rideau Cloth, Imitation Leather
(13411-69) - [15,637]
712 ~ Med. Fawn, Lt. Fawn Imitation Leather
(13617-67 ~ 13817-67) - [5,087]
707 ~ Lt. Fawn Imitation Leather
(13435-80) - [8,002]
731 ~ Dk. Bright Blue, Med. Bright Blue Imitation Leather (1)
(13617-67) ~
(13817-67 also depicted in Chevrolet parts manual as a two-tone combination but has not been seen in a two-tone combination in any SS396 to date) - [12,542]
708 ~ Lt. Fawn Renville Cloth, Imitation Leather
(13617-39-69) - [24,424]
749 ~ Med. Red Imitation Leather
(13680) - [519]
709 ~ Med. Fawn, Lt. Fawn Imitation Leather
(13617-35-67 ~ 13817-67) - [7,942]
750 ~ Med. Red Imitation Leather
(13617-67 ~ 13817-67) - [5,570]
710 ~ Med. Fawn Imitation Leather, Lt. Fawn Imitation Leather
(13680) - [8,005]
762 ~ Black Imitation Leather
(13680) - [2,820]
724 ~ Med. Blue Raeburn Cloth, Imitation Leather
(13211-69) - [14,228]
763 ~ Black Imitation Leather
(13617-67 ~ 13817-67) - [55,813]
726 ~ Med. Blue Rideau Cloth, Imitation Leather
(13411-69) - [18,126]
777 ~ Dk. Turquoise, Med. Turquoise Imitation Leather

(3)


(13617-67 ~ 13817-67) - [report shows 0]
727 ~ Med. Blue Imitation Leather
(13435-80) - [7,995]
790 ~ Med. Bronze Imitation Leather
(13617-67 ~ 13817-67) - [5,600]
728 ~ Dk. Blue Renville Cloth, Med. Blue Imitation Leather
(13617-39-69) - [42,797]
797 ~ Ivory Imitation Leather
(13617-67 ~ 13817-67) - [7,005]
729 ~ Dk. Blue, Med. Blue Imitation Leather (1)
(13635-67) ~ (13817-67 also depicted in Chevrolet parts manual but this two-tone combination has not been seen in any SS396 to date) - [9,062]
730 ~ Dk. Blue Imitation Leather, Med. Blue Imitation Leather
(13680) - [7,129]
732 ~ Med. Bright Blue Imitation Leather
(13817-67) - [2,592]
742 ~ Med. Red Raeburn Cloth, Imitation Leather
(13211-69) - [3,239]
744 ~ Med. Red Rideau Cloth, Imitation Leather
(13411-69) - [3,873]
745 ~ Med. Red Imitation Leather
(13435-80) - [3,535]
746 ~ Med. Red Renville Cloth, Imitation Leather
(13617-39-69) - [12,189]
747 ~ Med. Red Imitation Leather
(13617-35-67 ~ 13817-67) - [4,866]
748 ~ Med. Red Imitation Leather
(13680) - [5,790]
760 ~ Black Imitation Leather (2)
(13617-39) - [not shown on production report]
761 ~ Black Imitation Leather
(13617-39-67 ~ 13817-67) - [95,102]
775 ~ Dk. Turquoise Renville Cloth, Med. Turquoise Imitation Leather
(13617-39-69) - [33,154]
776 ~ Dk. Turquoise, Med. Turquoise Imitation Leather
(13617-35-67 ~ 13817-67) - [8,301]
787 ~ Med. Aztec Bronze Imitation Leather
(13667 ~ 13817-67) - [1,620]
798 ~ Ivory Imitation Leather
(13817-67) - [1,404]
Source: Trim Combination Chart, Chevrolet P&A Catalog, August 1972 Revision 30A
Trim codes and production numbers found on "CHEVELLE (A-BODY) RPO PRODUCTION" internal report...
* 720 - Fawn - 1,775
Where two colors are listed such as Dk./Med. or Lt./Med., the seats are two-tone with the Dk. of the two listed are in the 'seat' area and the Lt. of the two is in the surrounding material. Clicking on any one of those links will show the seat.
(1) Note trim code 729 is shown available for both the Malibu wagon and convertible as well as the SS396 sport coupe and convertible. To date, no SS396 series has been found with this two-tone combination bench seat.


Likewise the 731 trim code is shown available in both the Malibu and SS396 sport coupes and convertibles. Also note description of "Med. Bright Blue" and "Dk. Bright Blue" as opposed to simply "Dk. Blue" and "Med. Blue" of the combination above. As with trim code 729, no SS396 series has been found with this two-tone combination. Two have been reported to date that owner's strongly suspect are original; one an 06E Kansas City SS396 and an 06D Atlanta SS396.


(2) Trim code 760 is listed in the Exterior-Interior Colors matrix but is not listed in Trim Combination Chart, Chevrolet P&A Catalog, August 1972 Revision 30A. Whether this code exists or not is questionable since it's listed for 13617 & 13639 and trim code 761 (also black bench seat) is listed for 13617, 13639, & 13669.
(3) Trim code 777 does not appear in dealer sales books but does appear in the GM Trim Chart. None were reported in GM sales reports but I have identified at least 3 trim tags with the 777 trim code; one Fremont 13617, one Kansas City 13667 one 13817; however, the 13817 trim tag is suspect since it does not have the -B with the trim code and the body number is way too high for an 04D body date.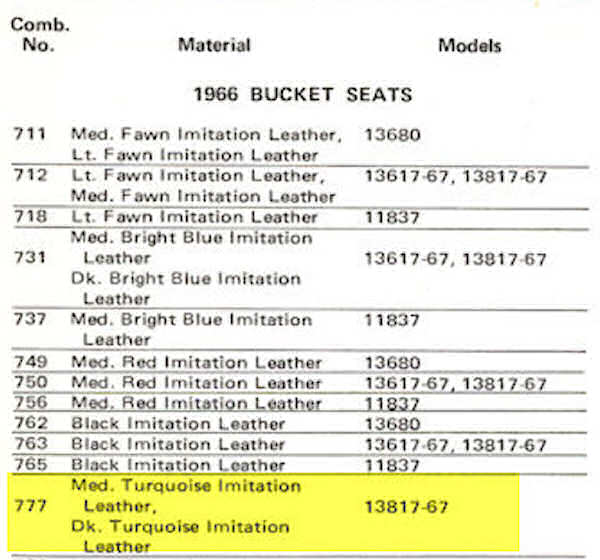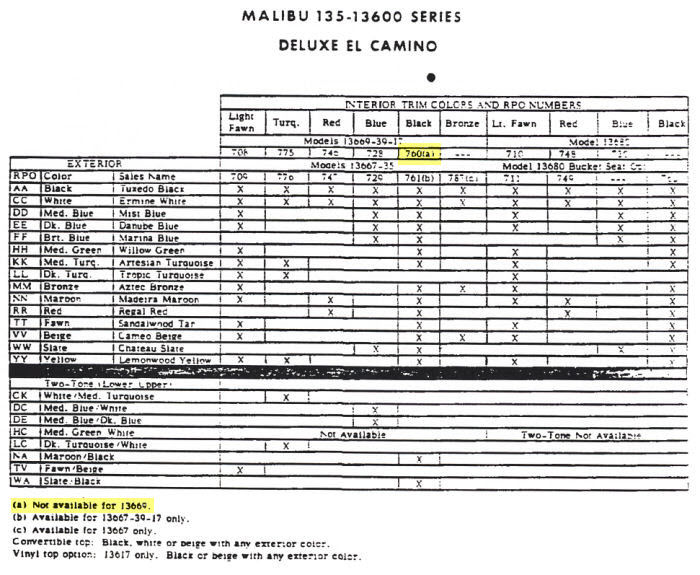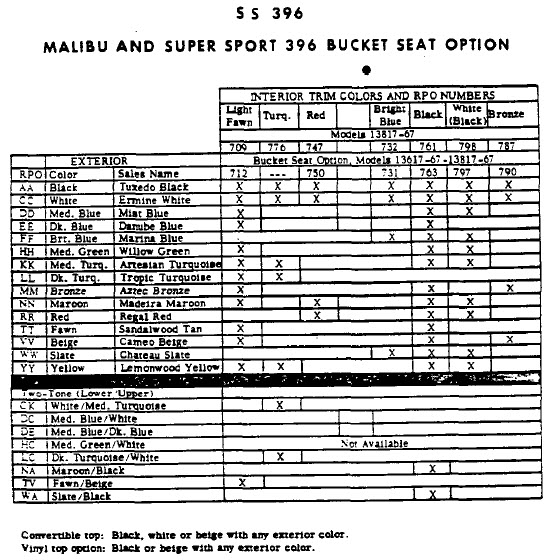 Note these interior/exterior combinations are termed "acceptable" rather than "recommended" meaning that prior to ordering any combination other than those "acceptable" that both the dealer and the customer should be fully aware of the appearance of any other combinations.
Trim codes found on trim tags that do not correspond to the GM docs above include 709, 747, 776, 787, 777, and 797. What is listed in the primary matrix are what has been found.
Canada
Canada has a few unique (different from U.S.) interior codes for 1966 and 1967 for 300 convertibles and station wagons that required all vinyl interiors.
Codes , 055 (fawn 1966), 060 (blue 1966), and 083 (red 1966) as well as 219 (blue 1967) have been found to date.
If you have any Canadian Chevelle trim tags with these, or other unique to Canada codes and/or any photos of the interior they'd be welcomed for inclusion on this CD.
---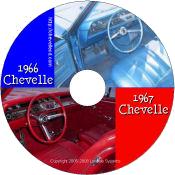 Want more in-depth information on 1966/1967 Chevelles? Take a test drive of my 1966/1967 Chevelle Reference CD.